i Light Singapore returns in 2019 from 28 January – 24 February with a special Bicentennial edition, commemorating 200 years since Raffles landed on the island's shores.
Themed "Bridges of Time", the light festival features 33 sustainable light installations sprawling across 5 programming hubs from Marina Bay to the heritage zones of Civic District, Singapore River and Raffles Terrace at Fort Canning Park where visitors can look forward to a mix of displays, performances, interactive activities and an array of dining options across these pockets that makes for a fun & fulfilling evening.
For the first time, the historic Raffles Terrace at Fort Canning Park will be home to a cluster of installations, greeting visitors with a musical experience as part of Festival at the Fort @ i Light Singapore. Festival-goers can expect to revel in acoustic music acts and special piano showcases by local talents, roving performances, movie screenings and guided tours of the historic Fort Canning Hill, led by members of the local heritage community.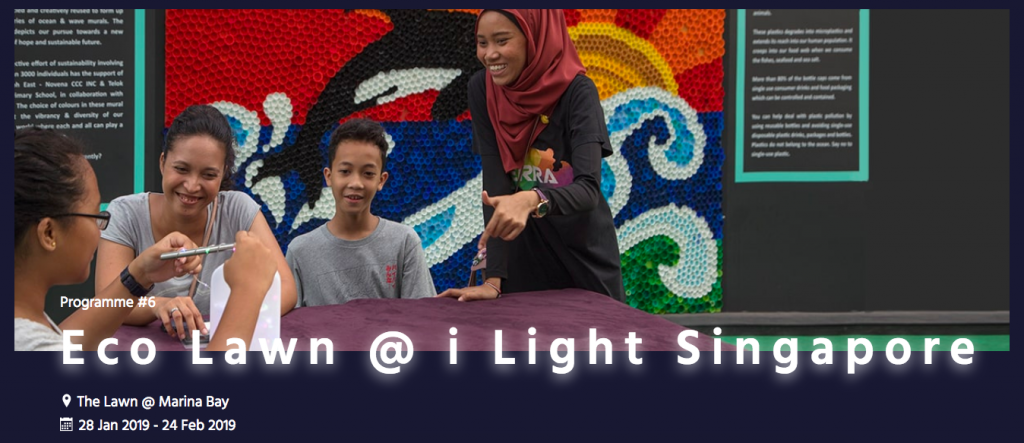 Over at The Lawn @ Marina Bay, the area will be transformed into an Eco Lawn where environmental sustainability, fitness, and social good converge. Participate in a diverse range of upcycling workshops, or practice mindful shopping at the Sustainable Lifestyle Market peddling ecologically-responsible goods. If you're down to get active, hop onto a mat with yoga and fitness activities under the beautiful City Gazing Singapore light art installation.
Foodies, if you're expecting a base zone, head over to Camp Kilo at Marina Bay Sands Event Plaza and sink those teeth into a hearty array of charred barbecued goodness and move to eclectic groovy beats with DJs on set.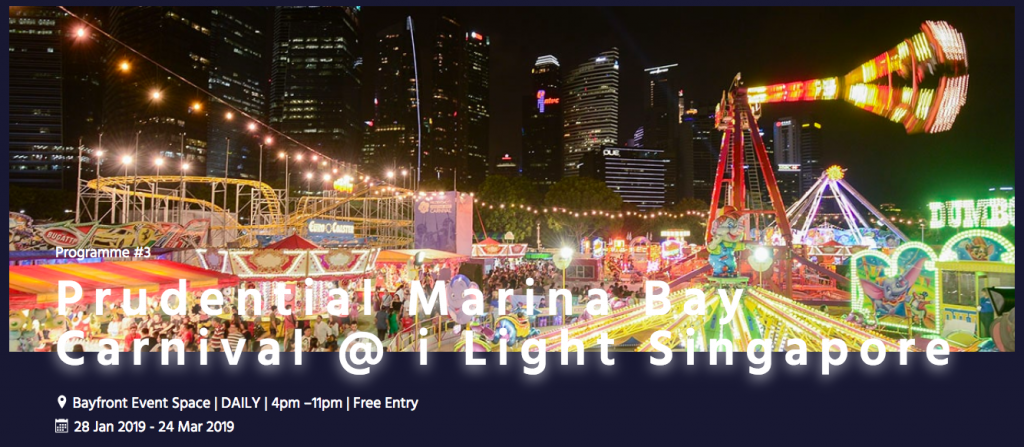 For the thrill-seekers, dash to the Prudential Marina Bay Carnival located at Bayfront Event Space and got your dose of adrenaline from more than 50 thrilling rides and games at this vibrant playground.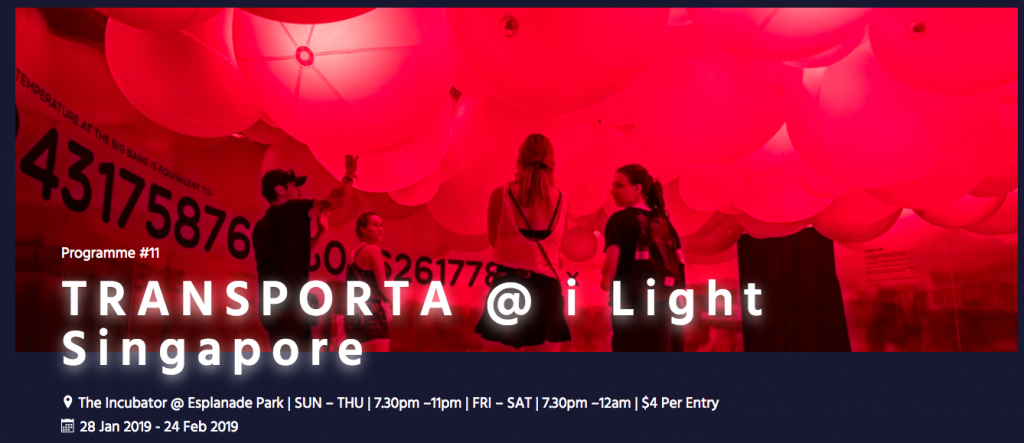 Looking to head further? Transporta @ i Light Singapore at Esplanade Park will take you on a journey to explore multi-dimensional, kaleidoscopic spaces, embarking on a fantasy adventure that redefines logic and reality. Revolving around the space-time continuum of the universe, this unique experience is designed by a group of Singaporean multimedia designers and artists based on the Festival theme of 'Bridges of Time'.
Most certainly, be sure not to miss the 33 fascinating light installations (and the countless IG moments), featuring works from more than 14 countries. Planning to catch them all? Don't forget to equip yourself with a map that tells you exactly where to locate the sites.
i Light Singapore – Bicentennial Edition is held from 28 January to 24 February 2019, 7.30pm to 11pm daily with extended hours to 12am on Fridays and Saturdays. General admission to the Festival is free. Visitors can sign up for guided tours of the sustainable light art installations by foot or boat, or go on a self-guided audio tour with mobile application VoiceMap (charges apply for both guided and self-guided tours). For more information, head over to: www.ilightsingapore.sg