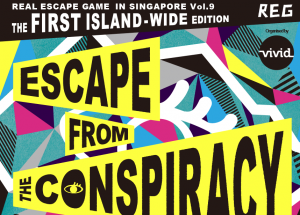 Stand to win a pair of tickets to Singapore's first island-wide Real Escape Game! Tickets will be for the session happening 21 June 2015, Sunday 11am.
Three Simple Steps to Win:
LIKE the Facebook post on this giveaway HERE
IDENTIFY Pea-chan's location in the Facebook post (Hint: It's where the event kicks off)
TAG a friend you'd like to escape with
That's not all! All ticket giveaway participants will be rewarded with 10% off Escape from The Conspiracy standard tickets for helping to find Pea-chan.
Ends: 12pm, Thursday, 4 June 2015
Remember to check Facebook after 6pm, Thursday, 4 June to find out if you've won! We'll need to hear from the winners to send you details on ticket collection. If not, we might have to re-allocate the tickets. All participants may contact campaign@peatix.com to claim the discount code.
More about Real Escape Game in Singapore: Escape from the Conspiracy
Escape games have become a viral hit amongst many in Singapore since it was first introduced in 2012. Typically thematic around a story and with the options of working solo or in teams of 6-7 people, the idea is to pool together everyone's skills, be it mathematical, logical, lateral thinking, literary, or physical, in solving a series of puzzles that will allow the team to eventually escape.
There are a slew of escape rooms in Singapore but no one does an escape game like the Real Escape Game – pioneers of the concept here and the only producer of large-scale escape games in Singapore.
In this special 9th edition of the Real Escape Game spanning across Singapore, there will be no time limit and teams will pit themselves against others to stop a conspiracy group targeting the nation's jubilee celebrations. The adventure kicks off at the Singapore Art Museum and teams race to find the next location by locating various clues across the island. Experience the thrill of the action as our agents compete to complete the game in the shortest timing and make their grand exposé to save the day!
Get tickets at $27 (standard) on Peatix or $30 at the door.
Limited group promotional tickets are also available at $150 for 6 tickets!
Terms & Conditions
This contest closes at 12pm Thursday, June 4 2015. Four winners will be randomly selected by Peatix Inc. to win the stated prizes from all eligible entries received. Peatix Inc.'s decision is final and binding and no correspondence will be entertained. Each prize includes 1 pair of tickets to the Real Escape Game in Singapore: Escape from The Conspiracy for the session on 21 June 2015, 11am. Winners will be notified by Peatix Asia Pte. Ltd. via Facebook and e-mail on Thursday, June 4 2015 with instructions on how to redeem their prize. Prizes are non-transferable and there is no cash alternative. Duplicate entries will be disqualified. Peatix Inc. reserves the right to disqualify all entries that do not meet the rules and regulations of the contest. This includes entries submitted with invalid or incorrect information. Peatix Inc. reserves the right, at our sole discretion, to change these Terms and Conditions.