This May, Peatix turns 10! We began as an easy-to-use self-service ticketing solution and today we have grown into an event discovery platform hosting over 110,000 community groups, serving offline and online experiences to more than 6.2 million users globally. It is a glorious achievement, proving that greater things are made possible through human connection. While the world looks a little different from when we first started, our mission to bridge communities in all things similar and different remains intact. This is why as we celebrate this milestone, we'd like to take this opportunity to introduce a number of key initiatives:
Here at Peatix, we believe the core of our business is about bringing people together through shared experiences. With increasing challenges impacting our world, we've seen an encouraging surge of people stepping up to do good, raising funds to aid a cause and offering their heart and soul to improve our world. We laud your efforts and are keen to assist you! Introducing the do-good program with a preferential rate of 3.5%, this is the lowered fee to help you raise more with less.
Peatix is designed to be a space of shared experiences and we believe in empowering users with the freedom and tools to create and participate in these enriching experiences. This can only be made possible when we come together, as a collective effort to maintain a friendly and positive space for everyone. In addition to our Terms of Service, we are introducing a set of community guidelines designed to foster a safe and conducive environment for all our users, to engage and collectively cultivate a positive experience for our community.
Read more about our Community Guidelines here.
Following the successful beta-phase of Peatix Live, a secured live-streaming solution designed for event organizers to create paid live experiences, the self-service version will be made available to organizers in Japan, Singapore and Malaysia come June 2021. With zero set-up fees, organizers need only pay for the tickets you sell and watch your reach grow with audiences tuning in from around the world, all with the ease of a click. Bringing people together has never been easier.
The Green Room by Peatix
The Green Room by Peatix is a new series of online events, aimed at uniting community builders, business leaders, and industry professionals. Join these great minds in a warm and casual setting as they share their insights on the latest global trends, artistic pursuits, and technological breakthroughs. Stay tuned as we connect you to these changemakers in this monthly learning series.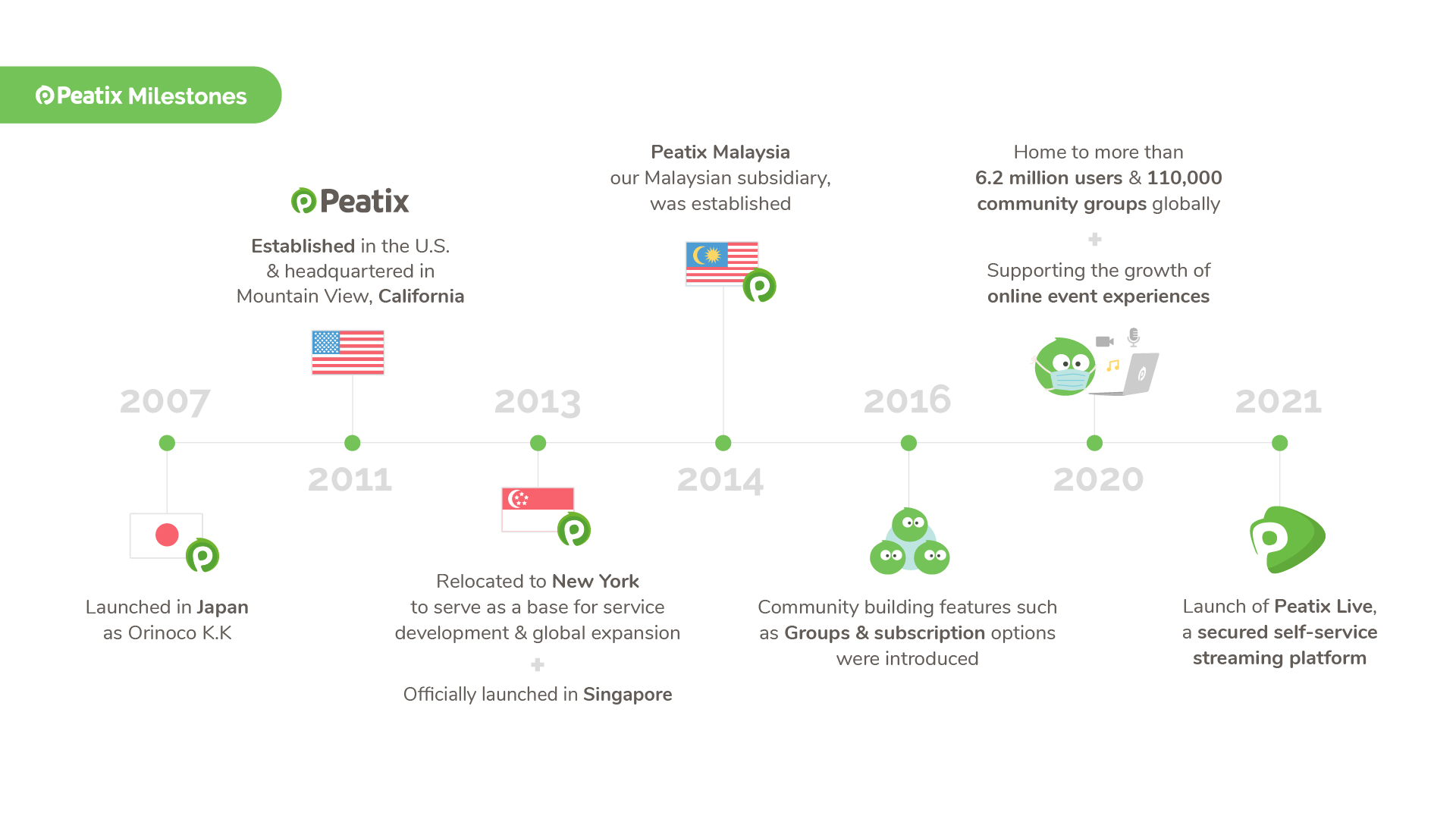 Our momentous mark of a decade would not be possible without you – our community of organizers, attendees & partners alike. Thank you for being the most awesome co-pilot in our journey thus far. We look forward to serving you and growing alongside your communities, for decades to come.