Happening from Sep 30 to Oct 2, 2021, The Peatix Live Festival (powered by Peatix's very own streaming solution, Peatix Live), is set to bring a fantastic array of virtual experiences, live to your screens. Featuring makers and creators from Singapore, Malaysia and Japan, these organizers are set to showcase the very best and brightest offerings in the arts, music and workshops of all kinds during the three-day festival that's guaranteed to delight and entertain.
Click on the event banners below to purchase your ticket and save your very own front-row seat!
30 SEPTEMBER 2021 [Thursday]
11am – 1pm – Barely Legal Food Styling/Photography in Nature
Have you ever wondered how creators on Instagram and Pinterest take such incredible food photos, but when you try to recreate it, it never looks as good? If you have your own food business and want to up your social media game, a new photographer wanting to know some new tips or tricks, or even an aspiring food Instagrammer who wants to attract a new following, this is the course for you! The Barely Legal Team will be talking about various techniques ANYONE can use to make their food photography stand out.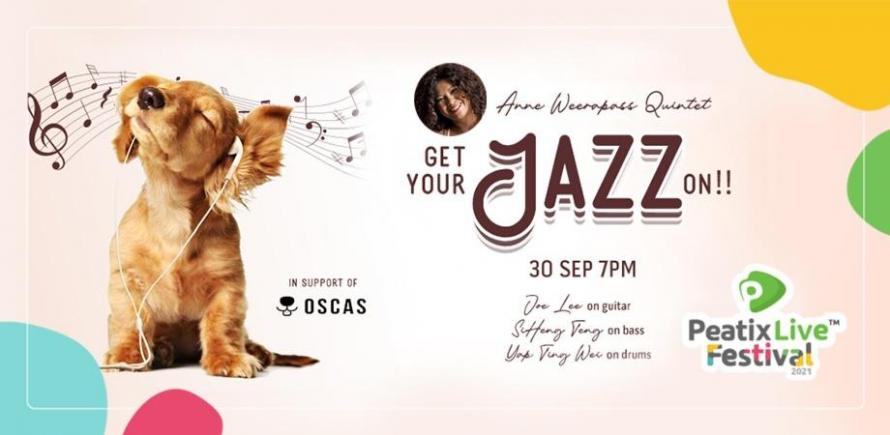 7pm – 8.30pm – Get your Jazz On
Get your friends or family together and enjoy your own supper club in the comforts of home or the outdoors. Sit back and chill with an evening of familiar, soulful, funky and sultry jazz and blues standards performed by the Anne Weerapass Quartet composed of band members with Joe Lee on guitar, SiHeng Teng on bass, Yap Ting Wei on drums and Anne Weerapass on vocals.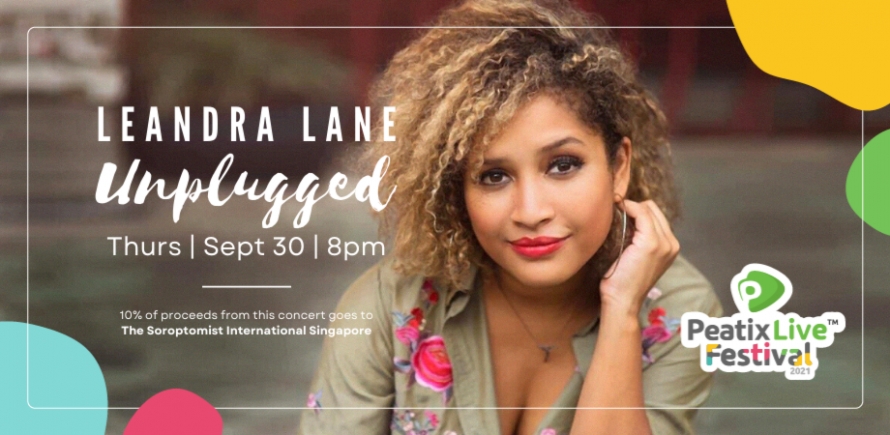 8pm – 10pm – Leandra Lane – Unplugged
This self-titled concert will tug at your heartstrings as you enjoy the intimacy of Leandra's soulful tunes on her guitar in the comfort of your own home. Stay home and unwind as you tune in for a good cause with 10% of proceeds from the concert going to The Soroptimist International Singapore.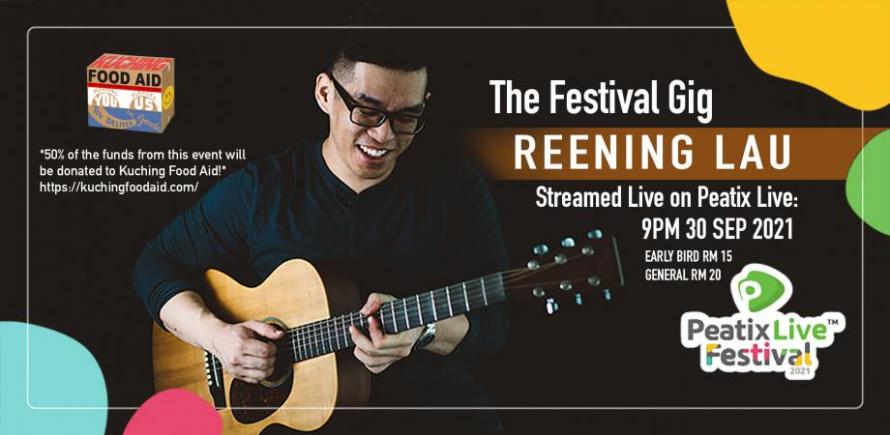 9pm – 10.30pm – Reening Lau: The Festival Gig
Known for forming sophisticated and gruelling guitar lines and a voice that brings about a charismatic baritone charm, Sarawakian Singer-Songwriter Reening Lau returns to your screen for another evening of music, ranging from classic hits, Malaysian music and several of his own originals.
1 OCTOBER 2021 [Friday]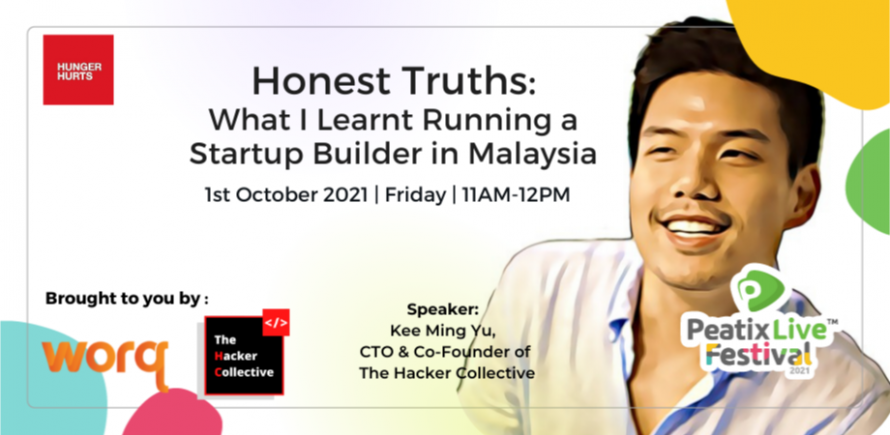 11am – 12pm – Honest Truths: What I Learnt Running a Startup Builder in Malaysia
In this talk, The Hacker Collective co-founder Ming will dish out the honest truth and his learnings through failures, and how it can save you countless months of headache and wasted cash, and ultimately, what is the road map if you wish to start a startup of your own.
2pm – 3pm – Founder Stories : Joel Neoh – Fave.
Founder stories will be featuring the founder of Fave, Joel Neoh. Join this fireside chat to learn about the journey of one of the prolific founders from Malaysia and his various businesses since starting Groupon in Asia and his latest venture, Fave.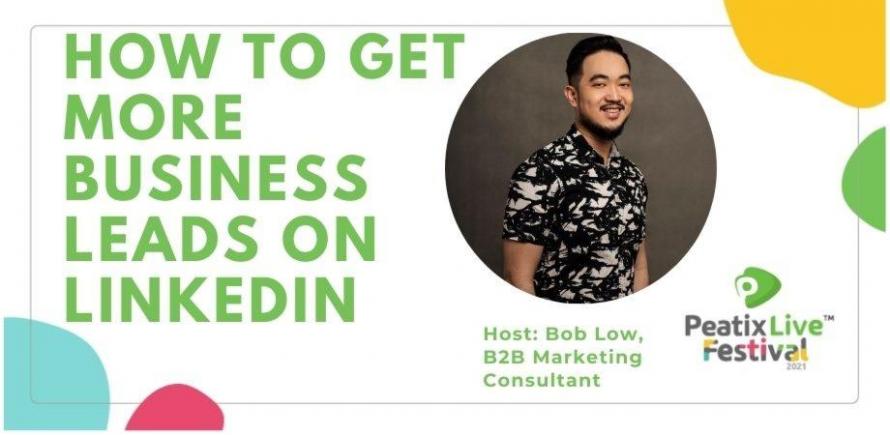 3pm – 4.30pm – How to get more business leads on LinkedIn
Learn how to start a sales conversation with your prospects and have engaging conversations with your prospects who are CEOs, CXOs and decision makers. This 90 minutes webinar will cover strategies on how you can improve your lead generation tactics on LinkedIn.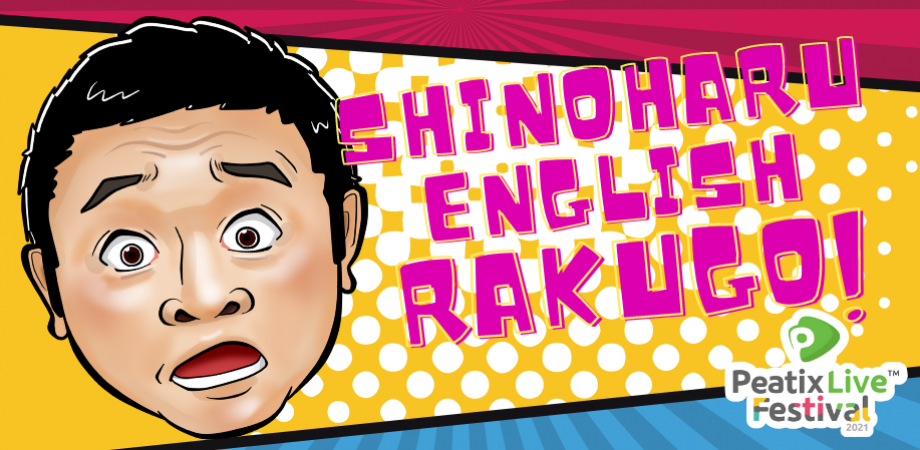 7 – 8pm – Experience Rakugo ( 落語 ) in English!
Rakugo is a traditional Japanese storytelling entertainment that takes a unique style, where one performer sits on a stage and acts out all the characters that appear in the story. Some stories are classical, some are original, but they are both quite hilarious. Shinoharu, who has lived in the U.S. for seven years makes this entertainment accessible to non-Japanese speakers and first-timers, as well as Rakugo fans who are eager to experience this art with a different twist.
8 – 9pm – HAPPY ENDING by ARAS Theater
HAPPY ENDING tells a story of 3 malay muslim females (Nur, Dewi, Nadia) who found themselves stuck in having to work inside a Massage Parlour which is rigidly run by Apple, an immigrant worker herself. The story follows their choices, and the struggle and challenges faced with the decisions made and the sacrifices that come along with it.
8.30pm – 10pm – Ray Cheong – The Intimate Songs
Ray will be performing favourite songs that give you the chills and lovey dovey mood as well as his own originals ! Armed with just a trusty acoustic guitar and looper, let's enjoy a full one-man-band show.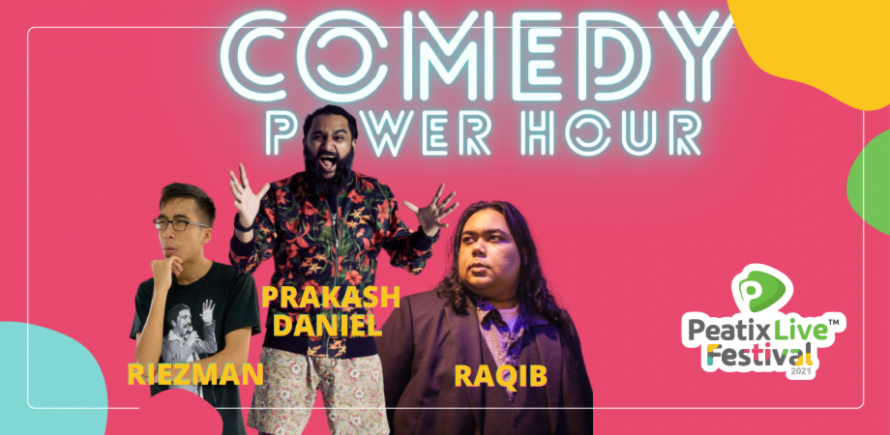 9pm – 10pm – COMEDY POWER HOUR
The Comedy Power Hour will feature 3 amazing comedians from the Malaysian stand-up scene. Riezman Razlan, Raqib & Prakash Daniel will be entertaining you all.
2 OCTOBER 2021 [Saturday]
11am – 11.45am – Strength & Core by Coach Nadia
This class focuses on strength and core exercises that will help to build your strength and improve your posture. It is a total body workout for your whole body! You'll feel great after this class! Suitable for all levels, all you need is an Exercise Mat, a Water Bottle and optional Weights.
2 – 3.30pm – Experience Tori Art Festival Online! (Event will be held in Japanese)
A community-based art festival planned and organized together with local citizens, The Tori Art Festival will feature works showcased in the area, including paintings and photographs from the galleries and viewers will also get to experience a mini-live performance of folk music, guitar, saxophone held on temple grounds.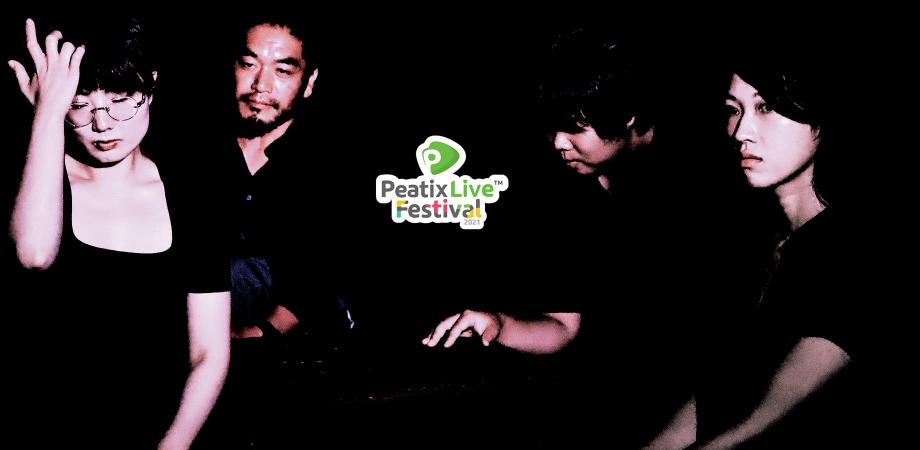 3pm – 4.10pm – Conclusion (Event will be held in Japanese)
Inspired by Henry James's The Turn of the Screw, this theater performance written and directed by Satoshi Naka, this theatre performance explores what happens after a tutor thought she's seen a ghost.
3.30pm – 5.30pm – Community Dialogue: The Invisible Battle In Becoming Our Truest Selves
Despite all the differences, there is a unifying theme in being human, drawing strength from our vulnerability, and finding the resolve to keep showing up despite the daunting challenges. Dive deep into the personal stories and internal journey of our guests, who have fought the invisible battle of becoming their true self in unique stages of life.
3pm – 4pm – 怀念凤飞飞经典歌曲 FENG FEI FEI TRIBUTE
Take a trip down memory lane with some of these classic songs from the 70's and 80's with Music Dreamer.
4pm – 5pm – Total Body Pilates with Jane
Awaken those muscles that have been dormant, refresh your mind and body. Enjoy a nice stretching session at the end to wind you down to power through next week, feeling taller, longer and leaner! New to Pilates? It is a challenging, low impact exercise concept that balances strength with mobility, aligns the body, fine-tunes movement patterns, and strengthens the deeper muscles of the body.
6pm – 8pm – PE-TIK Akustik
Showcasing 5 different local Malay groups and/or individuals, PE-TIK Akustik is a Singapore Music event featuring newcomers looking to share their tunes with a wider audience. Enjoy a fun-filled performance & show these budding musicians some support.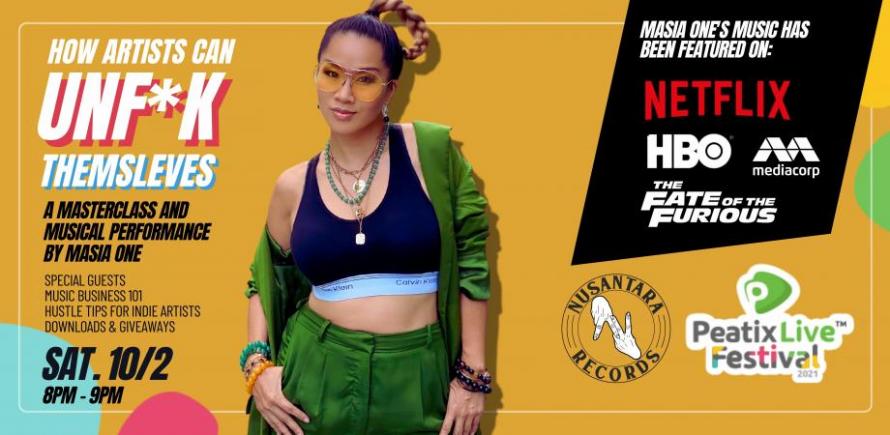 8pm – 9pm – How Artists Can UnF*k Themselves: A Masterclass & Musical Performance by Masia One
In this one-of-a-kind virtual concert meets masterclass, artist and entrepreneur Masia One will be performing a selection of her songs as case studies of how they found an audience and monetization to help build her brand as an artist. Look forward to special guest mentors, live collaborations and exclusive downloads of Masia One's own music business templates.
8 – 9pm – Saturday Night Magic
Get ready for a dazzling night of magic in this interactive virtual experience where everyone gets to become a star of the show. Participate in visually stunning magic, have your minds read and feel the magic in your own hands with some of Asia's Best Magicians!
9pm – 11.30pm – BRENDAN DE CRUZ || NOTHING BUT MALAYSIA : VOLUME II || LIVE FROM BELAKANG STUDIOS
Fresh off releasing his new Single "Get It On", Brendan de Cruz returns to our screens with another evening of nothing but Malaysian music! Join the Singer-Songwriter as he belts out classics from fellow Malaysian music-makers or send him a song request if you'd like to hear his rendition of your favourite tunes.
***********************************************************************************
WHAT IS PEATIX LIVE?
Peatix Live is a high-quality and secured viewing solution for event organizers to create paid online live experiences. With Peatix Live, event organizers can start broadcasting natively on Peatix via their webcams or choose to use any 3rd party broadcasting platforms to create live experiences and simultaneously mirror the content on Peatix. Registered ticket buyers on Peatix will be able to access these live online experiences from their browsers when logged into their Peatix accounts, ensuring an exclusive viewing environment.
Keen to try Peatix Live for your events? Reach out to us here.
HOW DO I ATTEND/WATCH A SHOW ON PEATIX LIVE?
For the best viewing experience, you'll need a high speed, and stable internet connection from your viewing device. Peatix is not responsible for any negative effect that the viewer's internet connection might have on the viewing experience.
Windows 10 – Latest version of Edge, Chrome or Firefox
macOS 10.14 or newer – Latest version of Edge, Chrome, Firefox or Safari.
iOS 11 or newer. Latest version of Safari
Android 8 or newer. Latest version of Firefox or Chrome