Event Organisers, if you've been thinking about how you could jazz up your event listing to give it that extra "oomph", we're thrilled to introduce "Videos for Peatix iOS", where you can now upload a video in place of the cover image on the Peatix iOS app.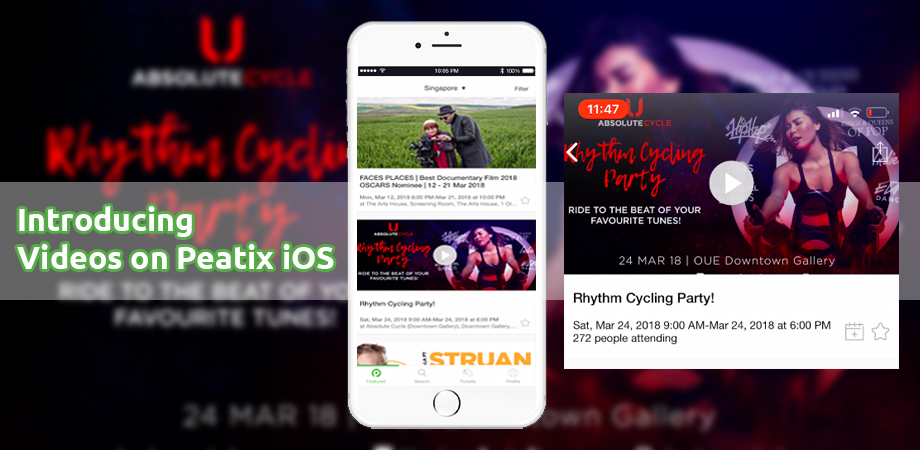 Video as a Marketing tool has gained itself a well-deserved reputation for being an effective format that captures your viewers' attention with the amalgamation of motion, sight and sound. It could help translate vibes that were previously restricted by limited real estate, whether through text or images and provide a glimpse of what your event truly has to offer. In a recent study conducted by Hubspot, it was reported that:
81% of businesses use video as a marketing tool — up from 63%, the number reported in 2017
97% of marketers say video has helped increase user understanding of their product or service
80% of marketers say video has increased dwell time on their website
81% of people have been convinced to buy a product or service by watching a brand's video
 72% of people would rather use video to learn about a product or service
These statistics are further substantiated with user behaviour findings that report approx. "one-third of online activity is spent watching video" with "over half of all video content viewed on mobile". (Source: Wordstream)
How it works:
Once a video is uploaded in the cover image area, users will see a playback button on the event list screen and event detail screen on Peatix's iOS application.
To start watching, users just need to tap on the "play" button and once playback ends, they will be returned to the event detail screen.
Getting started:
Currently, all upload requests can only be submitted via email to the Peatix team and is only available to the Peatix iOS app (Don't get us wrong, we love our Android users too and rest assured we're working on it!). To get started, simply submit your request here & provide us with:
Your name
The email address associated with your Peatix organiser account
Your Peatix event page URL
The YouTube URL of the video to be uploaded (Please kindly make sure you have the video up on YouTube and note that that URL submitted has to be in full, rather than a shortened link)
Please also ensure that videos that do not infringe intellectual property rights such as copyright, trademark right etc…
New to Peatix and can't wait to start building your community with events? Find out how you can easily set up your event page or simply reach out to us and we'll have you sorted in no time.