In our 3rd episode of the Peatix Group Chat, we went live in conversation with 5 movers and shakers in the music scene from Singapore and Malaysia and discussed what musicians and organisers can do during the #StayAtHome season.
If you've missed the episode, here are 5 key takeaways of what we spoke about or you can watch the video here.
1. Keep creating and putting out content
When asked about the effect of technology on the live event experience and how the pandemic has created a shift towards normalising online experiences, Editor-in-Chief of Music Press Asia, Monica Tong shared that right now while performing may have come to a standstill for some and though things are moving slowly, musicians should not stop producing or creating content during this period. Singaporean folk-rocker, Lincoln Lim also agrees that now is the best time to put content out as more attention is spent online especially on social media.
On the topic of creating content, The Far East Empress, Masia One, shared that while she knows there songs being written specifically about the coronavirus, she is interested in writing songs for those that might be going through a tough time and calls for musicians to create the kind of music that could act as a form of therapy or that could solve some of the social issues that may arise as a result of the pandemic and lockdowns.
2. Think Multiple sources of Income (…and not just virtual busking)
When asked about how he sees performing online as an income stream, Lincoln shared that while he sees friends busking online, he feels that this way of earning income works only to a limited degree.
He invites musicians to take into account the 'lifespan of hype' having seen viewership numbers for live streaming sessions drop. If musicians wish to pursue live-streaming sessions or shows, then they should think about how to make it more sustainable as a whole. He feels that live streaming sessions should not be just a placeholder for the current situation.

Adding weight to Monica's sentiments about creating and putting out content, Masia strongly encourages musicians to keep building their catalogue. For example, by building her catalogue, Masia was able to license 4 of her songs to Netflix for some of their original series, one song for Mediacorp and have another remixed into a soundtrack for the Fast and Furious movie series – all of which she was able to successfully monetize from.
Masia also highlighted that sometimes it might not be the song that one might think is 'hot' that will be chosen, but it may come from the songs that you might "put on the B-side''. Masia also encourages musicians not only to network and build relationships with those that could give access to licensing opportunities but to also get involved with businesses outside of music who might need the help of creatives – especially during this period. This also allows for opportunities to grow your audience beyond your community. 
Masia also shared that musicians could also think about merchandising as what people can take home with them as part of the experience with the artiste. For example, Masia recently developed her own line of jerk sauce which has since had sales taking off after more people started to cook from home during the lockdowns. She encouraged her friends and customers to play some of her songs in her videos which showed them using the sauce in their 'cooking from home' shows or videos that they would post online.
Music Producer at MFMF, Brendan Lim, shared that Spotify royalties are pretty decent if one is living in Malaysia, (as compared to Singapore in terms of the cost of living) granted that the musician does well on Spotify, noting that MFMF has had 1M collective streams just one year into being on the streaming platform. He does advise to be mindful about the payout schedules and to take that into account when managing cash flow.
Brendan also echoes Masia in encouraging musicians to reach out to businesses and SMEs to provide cost-effective or cheaper alternatives as compared to what larger agencies or service providers would charge for projects or jingles for example. These might be more attainable in the short term and also be a quick source of income.
3. Brand Building (…on TikTok)
During these uncertain times, Brendan also feels musicians should focus on building their brands and not just income. One online platform that Brendan and his clients are getting heavy on is TikTok – which Brendan shared, is currently underrated and has underpriced attention for brand building.
It is quite rare to be able to get such a wide reach on the current social media platforms like Facebook, Instagram – which is what makes TikTok attractive. By increasing the volume of content musicians put out on TikTok, there is a chance to get some content to go viral and hence Brendan suggests making content that is TikTok friendly.
Brendan also shared that TikTok has a feature where those that view a creator's content, can take the video's original sound (music) and put a new spin to the original video or they could also do a duet (something like a reaction video) to the original video. One way of using TikTok is to use parts of a song in creating content and if that content takes off, then there could be a consideration to put more money into making it a full song and into marketing the song. TikTok could also be a place to test the waters.
Chiming in on her thoughts on TikTok, Masia recognised that while she comes from the school where she enjoys listening to a full album to understand the story the musician is telling, TikTok has the ability to grab one's attention into a piece of music or content; and that its (younger) demographic has a different way of storytelling whether be it through a dance move connected to a song for example and that should be acknowledged in terms how the platform works.
4. Of stories & relationships
As the editor of a digital music publication, Monica was also asked by fellow panellist Masia on what it takes for a piece of music-related news or press release to stand out in times where media outlets are dominated by news of the pandemic. Monica has emphasised the need for a good story but more importantly, this is also the time to build or rekindle relationships so try reaching out via a phone call or a text rather than just an email and have a conversation about the story you're trying to tell.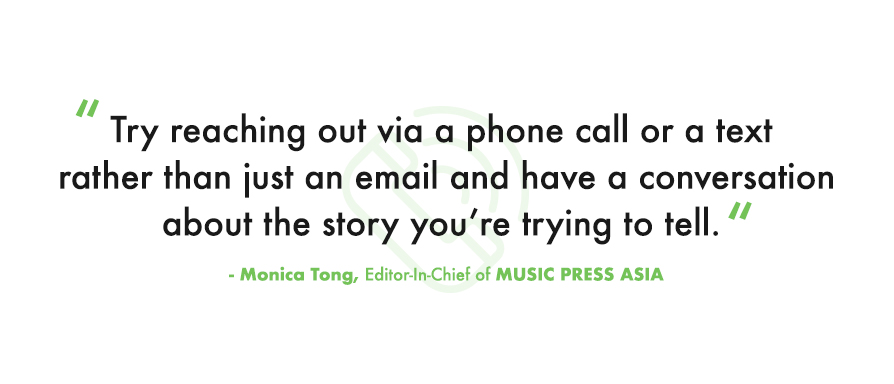 5. Changing event formats for digital audiences
With the COVID-19 pandemic bringing a stop to putting on hold offline event experiences we asked the Founder of Wired Music Week, John Beh about how he quickly adapted to the situation when he had to cancel his conference, which had become one of the most respected meeting places for electronic music industry professionals in the Southeast Asian region.
In cancelling his conference, John had spun off a digital arm called 'Get Wired Virtual Conference', which he plans to run more often. He sees the online sessions as a place to provide those who attend, access to valuable information and connections which can be funnelled back to the physical conference eventually.
Recognising that the online event experience differs from a physical one, John reduced the duration of his conference as attendees only have a limited time to spend in front of their devices to be engaged. He also provisioned time for his attendees to join the virtual session and troubleshoot any issues they faced with setting up for the conference.
Not going into too much detail, John shared that online event organisers should consider what they are looking to achieve with their events to then figure out what event platforms might be suitable to meet their objectives (as each online event is unique).
John also brought up that unlike his main conference, "Get Wired" was free. With regard to pricing and earning, he shared that different organisers and musicians need to bear in mind how they wish to position themselves. For John, bearing in mind the current situation with regard to many in the industry going through rough times and wanting to provide value and keeping the conference accessible, the virtual conference was kept free. It wasn't about focusing on the money but on the long term plan for the conferences and how Wired Music Week positions itself in its industry and community.
For more insights into our discussion watch the full episode of our chat here. Or if you would like to get in touch with our guests, their details can be found in the comments of the chat.
Curious to find out more about how Peatix can help you with your online events? Visit us here for more tips and ideas on getting started.