In celebration of International Women's Day 2022, we decided to bust a few myths surrounding women in tech. We asked six women across Peatix's teams to tell us one common misconception they often hear about working in the tech industry and how they have since discovered otherwise. Here is what they had to say: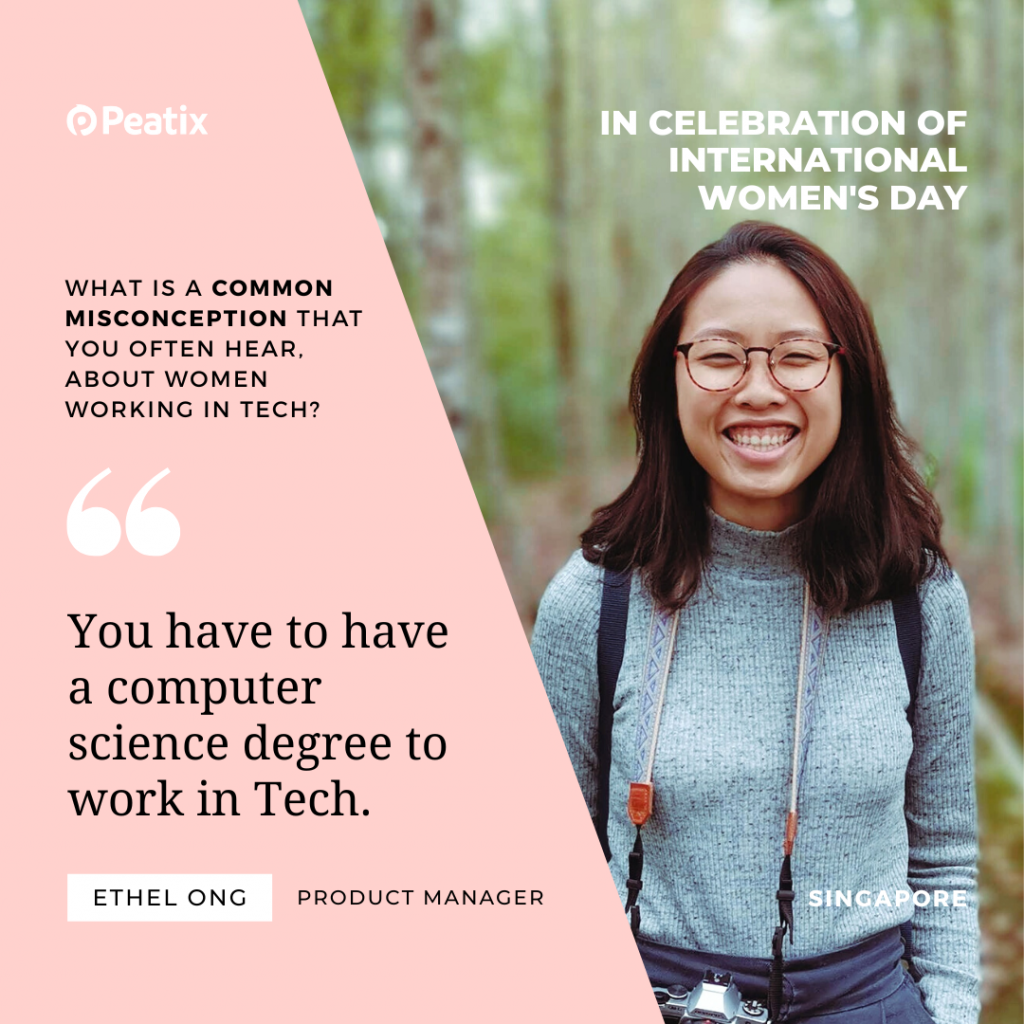 You have to have a computer science degree to work in tech.
"I believe there is a seat at the table for people with any educational background. While technical knowledge and skills are important, they can also be picked up on the job. Soft skills such as communication, collaboration, empathy and adaptability are equally important. As a product manager, I am part of Peatix's Strategy team, which comprises team members (whom we call Peaps) of various cultures, genders, locations, educational backgrounds and work experiences. This diversity has enabled us to consider problems from multiple angles and with various perspectives, which in turn made it possible for us to come up with better ways to resolve users' pain points." – Ethel Ong, Product manager
Tech industry is a boys' club and girls don't fit in.
"It is very common for people to think that working in tech is not a good fit for women. That men can do the job easier and they are naturally good at it. Over the years of working in this industry, I have met a lot of incredible women who made successful careers in tech, some of them are my colleagues right now. While it is true that tech is a male-dominated industry, I believe that gender has nothing to do with being competent in this field. Like any other field, it is still hard work, determination and consistency to learn and improve that leads to a successful career in tech.
Peatix provides equal opportunity for both men and women. Everyone is encouraged to speak up and communicate their ideas. I am very fortunate to be part of a very awesome team and I really enjoy working as a female engineer. If you are passionate about creating great technologies that make people's lives easier and better, I encourage you to take a step forward and pursue your passion. We definitely need more women in tech." – Maria Jolina Coronel, Web application engineer
Women in tech are all geeks and boring.
"People have this stereotype about women working in technology that we only care about computers and are socially awkward. There is actually a lot of diversity among women in tech: we come from different backgrounds and have various interests and experiences with interesting stories to share. As a product manager at Peatix, I  approach problems from both technological and non-technological points of view. It's more than codes and numbers at Peatix; we care about communities and the social impact we can make through human connections." – Yeemon Thant, Product manager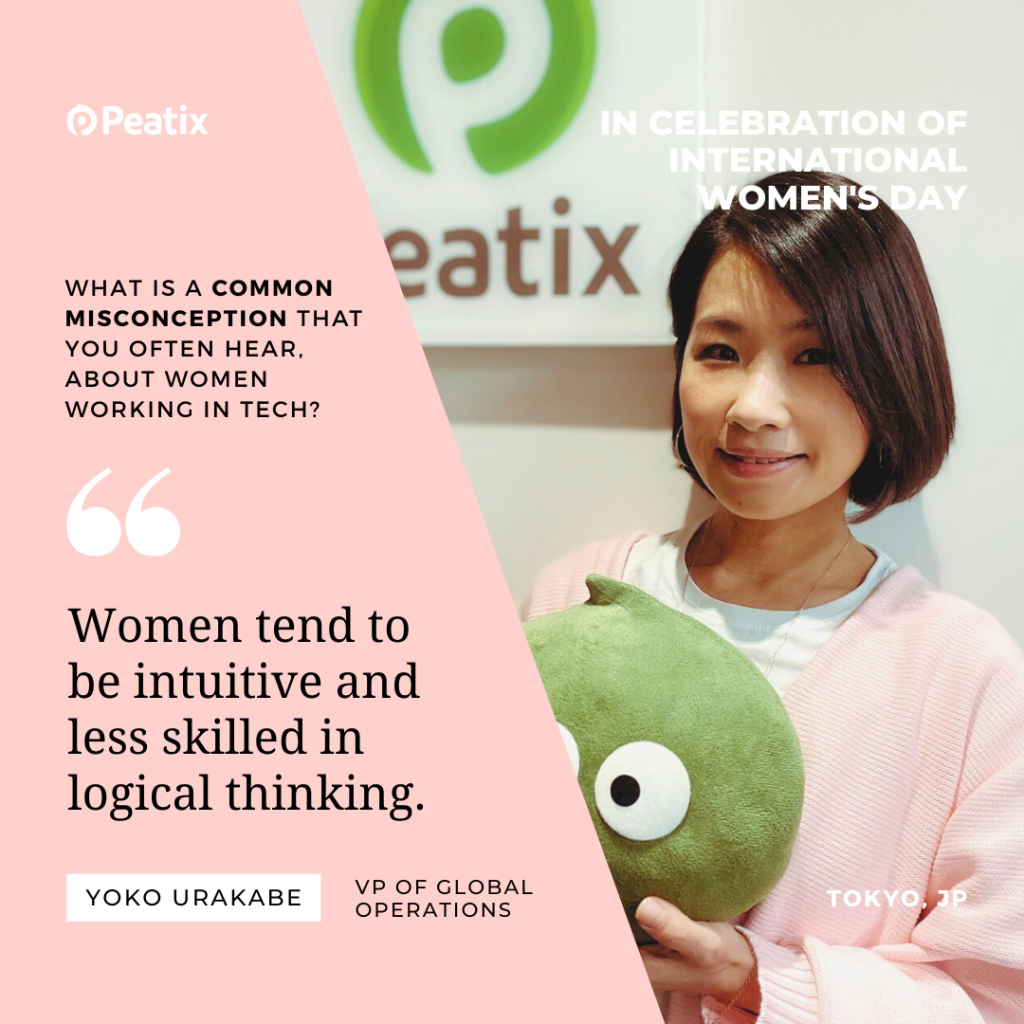 Women tend to be intuitive and less skilled in logical thinking.
"Many of you have probably been exposed to statements or articles that women are weak in logical thinking. And I believe just as many people are not aware that logical thinking skills can be developed through experience and training. Peatix is full of successful women with exceptional logical thinking skills. As VP of Global Operations, I manage the Customer Support team who handles inquiries from our customers. I am very proud of my team members, regardless of gender, for effectively identifying the problem and its cause, and always providing proper solutions to our users." – Yoko Urakabe, VP of global operations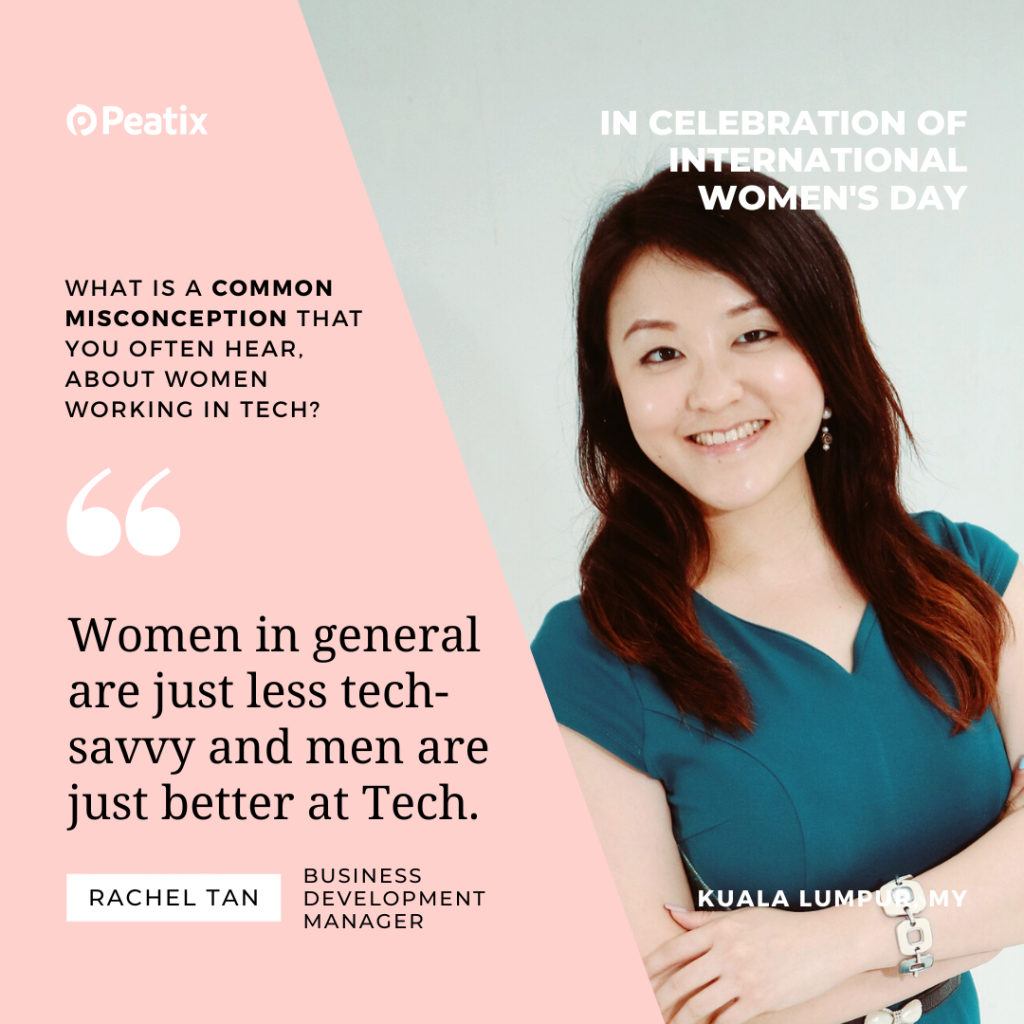 Women in general are just less tech-savvy and men are just better at tech.
"People tend to dismiss women as not fit to work in the tech industry. This has been proven untrue by the employment of a large number of brilliant women at Peatix. Women, like men, can be equally, if not more, competent in any field including tech. Women are more than able to contribute to the tech industry and sometimes we just need a place to shine, and what better organization to do so than at Peatix, a company that recognizes and rewards women who are driving progress in tech." – Rachel Tan, Business development manager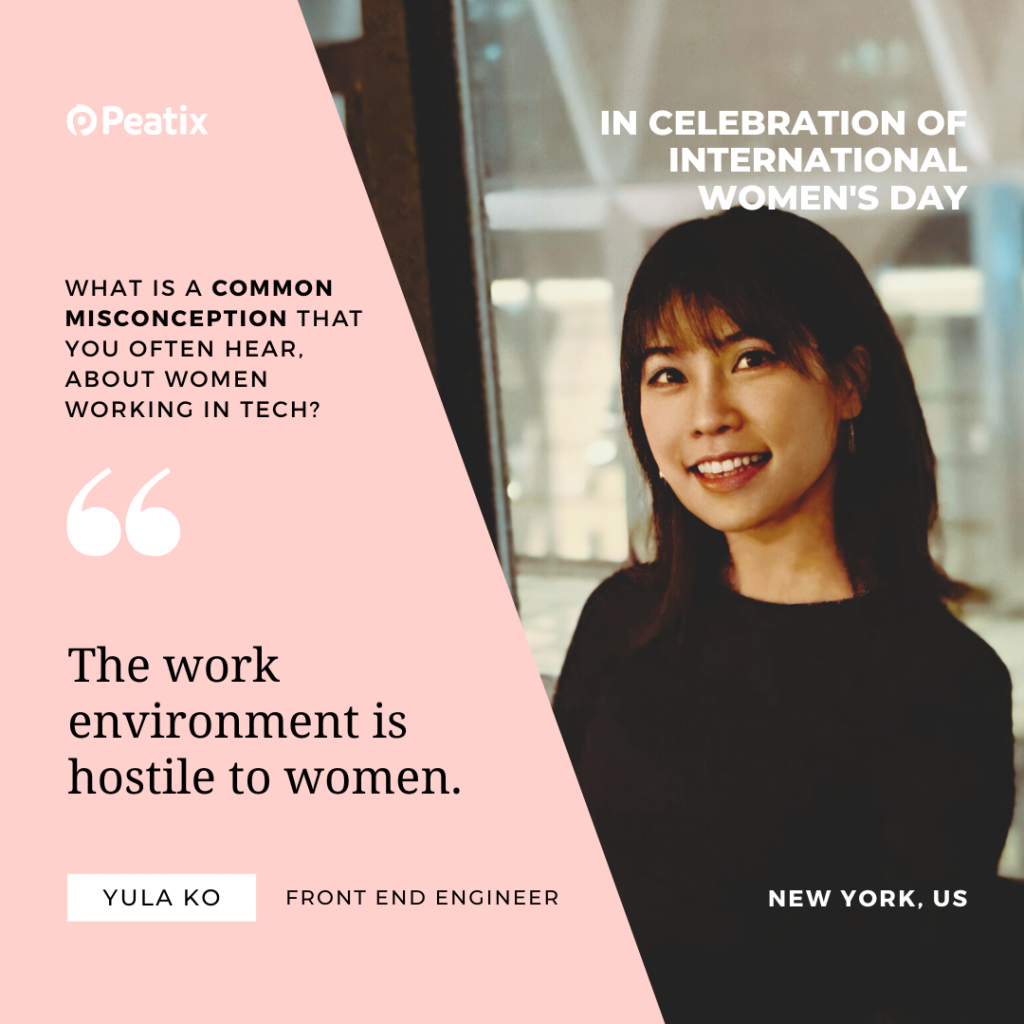 The work environment is hostile to women.
"Before working in tech, I heard that it was not an appealing environment for women. Reasons include: men outnumbering women by a lot, a culture that does not accept women, rude coworkers and crazy hours without room for work-life balance. Working at Peatix turned out to be a pleasant surprise. There are many women in the company and in fact I now work in an all-women team. Plus, there are a lot of women in management positions that show great leadership. I have not felt that men dominate or that the culture is intimidating to women. My colleagues are very supportive, and they often check in to see if I feel any stress or if I'm working too much. I think these misconceptions came from a time when there were not a lot of opportunities for women to pursue a career in tech because there were many who subscribed to a stereotype that only men can succeed. Companies like Peatix consciously challenge this misconception. I believe things will become easier once companies have enough women to close the gender gap in bringing about a culture change." – Yula Ko, Front end engineer

Peatix is expanding and we are looking for talented engineers, product managers and specialists to continue our efforts to help communities grow. Join these incredible women and our multi-talented global team, by visiting our Jobs page ptix.co/jobs for an exciting career opportunity today.