Calling all artists and art enthusiasts, Gallery Weekend Kuala Lumpur returns for its fourth edition from Nov 15 to 17. 
Featuring over 25 galleries across KL city, the program will comprise of artists' talks and special projects; workshops and of course, the Luminary Programme featuring significant creative expertise and talent. 
This year's Luminary Programme includes Aga Khan Museum's Asia Curator, Marika Sardar; Singapore National Museum's Curator, Dr. Adeline Tan; National Technology University's newly appointed Deputy Director of Curatorial Programmes, Dr. Karin Oen (formerly of the Asian Art Museum, SF); Indigenous Arts Curator, Taiwan, Biung Ismahasan; Pakistan Pavilion curator, Venice Biennial 2019, Zahra Khan; UNESCO Observatory Director, Lindy Joubert; and Malaysian textiles specialist, Edric Ong.
Entrance to GWKL Luminary and exhibition features is FREE for all, but tickets are being snapped up really fast. 
Here are the programs you can be a part of: 
Creating and Collecting The Craft – Borneo & Beyond
For collectors, appreciators and creators, join this discussion on the development of craft, in its creation and feature, both institutionally and commercially. 
This presentation featuring Malaysian designer Edric Ong and World Craft Council Pacific Asia Region – South Pacific vice president Lindy Joubert will focus on important international exhibitions, social enterprise modules and quality control. 
Save your seat for Nov 16, Saturday, 11am – 1pm, Badan Warisan (Heritage Centre), 2, Jalan Stonor, Kuala Lumpur. 
Contemporary Practices
National Gallery Singapore senior curator Dr Adele Tan and Independent Curator, Artist and Researcher Biung Ismahasn will present for 30 minutes each on their areas of expertise and development, discussing current museum and independent projects, the Singapore Biennial projects, the contemporary art and new practices that have been included. 
The presentations followed by a moderator-led discussion, will also cover the inclusiveness of contemporary art in expanding traditional parameters of the definition of art.
Get your tickets for Nov 17, Sunday, 3pm – 5pm, National Art Gallery, Centre Court, No. 2, Jalan Temerloh, Titiwangsa, Kuala Lumpur
SHOWCASING THE CREATIVE – Biennials, Museums, Placemaking & Audience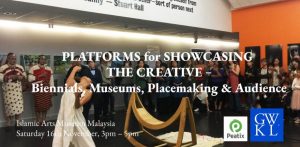 Presentations by Aga Khan Museum curator Marika Sardar, Venice Biennial 2019 (Pakistan Pavilion) curator Zahra Khan and Nanyang Technological University Centre for Contemporary Art in Singapore Curatorial Programmes deputy director Karin Oen covering areas of expertise and development. 
The topic will approach the different avenues for presenting creative works, the support needed to make exhibitions and projects successful and consider the different measures of success. The presentations will be followed by a moderator-led panel discussion. 
Save your seat for Nov 16, Saturday, 3pm – 5pm, Islamic Arts Museum Malaysia, Auditorium Perdana, Jalan Lembah, Tasik Perdana, Kuala Lumpur
Discover Kuala Lumpur Walking Tour
Commencing at Badan Warisan at 11am, experience KL shop lot architecture to understand its construct and morphology, from Jalan Tun Perak to Chinatown Area.
Save your spot for Nov 15, Friday, 11am-1pm, Badan Warisan
Mark your calendars for Nov 15 to 17 and join the meaningful exploration of culture and multidisciplinary arts at GWKL 2019.