This year, Malaysia celebrates 62 years of independence and a long weekend! Honour how far we have come and how far we will go as a nation with this array of events. Starting Aug 30, there are workshops, film screenings, comedy and music events that celebrate our diversity and exceptional local artistry. 
BacKLane Cinema #6: 'Home' – a Merdeka Eve Special
For this Merdeka Eve special, pop-up community cinema, BacKLane Cinema have teamed up with Acumen Academy Malaysia and to celebrate the theme of "Home". They'll be showing the 1982 film 'Kami', directed by Patrick Yeoh and starring the much beloved Malaysian icon – Sudirman. The event will open with an award-winning short film 'Eraser', directed by Mark See Teck Lee. Join in for some traditional food, ice-cream potong, music, a photobooth and show your merdeka spirit and come wearing the colours of Jalur Gemilang on August 30 from 7pm to 10.30pm at Lorong Bandar 13, Kuala Lumpur. 
SIAPA aka School of Improvisation, Acting and Puppetry Arts presents the three classes under the MERDEKA WORKSHOP SERIES 1.0 on August 31 at Twenty20Two, 20 & 22, Jalan SS 4D/14, Petaling Jaya.
KIDS PUPPETRY WORKSHOP by Malin Faisal
TIME : 9.00am to 11.00am
For kids aged 5 to 15 years old, discover the joys of puppetry by learning how to create a simple sock puppet. Great for improving communication, building confidence, practicing gross motor skills, fine motor skills and having an incredible load of fun! Parents tag-along for free. 
ACTING IMPROVISATION FOR WORKING ADULTS by Helena Foo
TIME : 12.00pm to 3.00pm
Learn how to speak and carry yourself confidently at the workplace or in your personal life where these skills are equally important for success. Discover tips on acing every presentation, mastering the art of persuasion and the power of eye contact in this intensive 3 hour workshop. No prior acting experience necessary. 
THEATRICAL BIOMECHANICS & MIND-MOVEMENT SENSIBILITIES by Nicole-Ann Thomas
TIME: 4.00pm to 7.00pm
For ages 21 and above, you will get a basic insight into how theatrical biomechanics can help you as an actor, and possibly as a human being. Discover how naturally the body and mind work if you just allow them to come together. No prior acting experience necessary.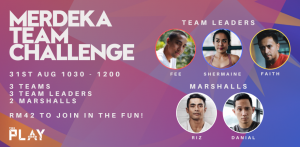 Up your workout with the Merdeka Team Challenge @ The Playground Fitness Bangsar
Has it been awhile that you last did something really fun for your workout? Burn some calories this weekend by joining the Merdeka Team Challenge led by coaches Fee, Shermaine and Faith. Get your ticket for Aug 31 from 10.30am to 12pm at The Playground Boutique Fitness Personal Training Studio. 
Aug 30 – Al Terry & The Purple Haze with Special guests Ito Mohd & Julian Mokhtar
Al Terry is an Australian blues frontman whose soulful vocals and harmonica instrumentals are delivered in the amplified harp tone of Chicago blues masters such as Big Walter Horton and Little Walter. He incorporates swinging West Coast Jump Blues and Rock & Roll into a night of high-energy, toe tapping up-tempo music; punctuated by some low-down, speak-easy Blues. The Purple Haze Blues band is made up of Malaysian Blues legends from Blues Gang: ZZi Blues on Lead Guitar and Shaik Karim on Drums; they are joined by the solid talent of Shah Shariff on bass. The Purple Haze Blues Band has been rocking live venues throughout Malaysia for 20 years.
Ushera, is a Jazz singer-songwriter who performs 'Nona Malaya' musical style with a contemporary twist. Ushera evokes nostalgic memories among members of Malaysia's older generation and captures interest among Malaysia's younger generation by transporting them to the bygone era of yesteryear Malaya. 
Comedy at The Joke Factory
For one night only, The Joke Factory's MERDEKA SPECIAL (31 AUG) will have the best local comedians along with Harith Iskander himself as they share their own hilarious stories that bring us together as Malaysians. 
Check out Arul Bhai with his wry, one-liner observations about being poor in Klang, Mikhail Svrcula and his unique perspective of being a German-Chinese Malaysian, Salah Salim's experience of being a kampung transplant from Perlis, and Filzah Awok's cheeky jokes about her love life and being Sarawakian at FACTORY FRESH FACES (30 AUG)
Selamat Hari Merdeka, Malaysia!