MALAYSIA celebrates 61 years of independence on August 31st, which also happens to fall on a Friday this year. Whether or not you decide to join the parade at Dataran Merdeka this year, we got you covered on a variety of ways you can leverage on the long weekend.
Here are five Merdeka spirit activities you can join in:
Kulit On The Go at 15JohorAF is a stage production that reveals the heart and art in leather crafting. In a materialistic world preoccupied with consumerism, this artisan stays afloat in business traveling to his customers to produce custom-made orders. Despite his attempts to redefine luxury goods, society has other plans for him. Written and Performed by Erwin Shah Ismail, the show is directed by Baba Richard Tan and English, Malay, Mandarin, and Hokkien. It takes place on Sep 1, 3.30pm and 8pm, The Puteri Pacific, Johor Bahru.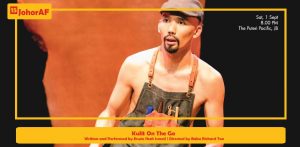 Take a fresh look at Selat Johor's often-overlooked narrow waterways and beautiful everyday stories through the Selat Johor: A Visual Collection at 15JohorAF, a visual collection by renowned local photographer Zulkiflie Maarof or better known as Cabi. Step into the lives of some of Johor Bahru's most under represented communities with Border/less – Photography Exhibition at 15JohorAF – a 6-part photography exhibition that examines the daily routines of the city's foreign labourers. Both exhibitions begin from Sept 1 at The Puteri Pacific Johor Bahru.
Catch a comedy show closest where you are.
Three rising stars of comedy celebrating a new sense of freedom at HAHASAN 2020. For one night only, laugh your hearts out with our local comics Hindravel, Harresh A.U and Farid at what makes us Malaysian on Aug 31, 8.30pm, General Space, Petaling Jaya.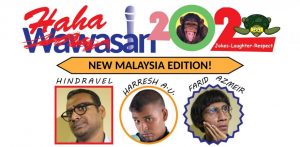 Relive the exhilarating exercise of democracy at The Comedy Death Race – Merdeka Edition . This is the one show where the audience determines if the comedian goes home or goes home with a cash prize. If you don't like 'em, flash the red card and off they go. If they survive the whole five minutes, they'll win RM500 cash on the spot. This show is on Aug 30. 9pm to 11pm at Crackhouse Comedy Club. You could also catch a diverse lineup of comedians on Aug 31 and Sept 1 at Crackhouse Merdeka Special ft. Papi Zak, Sim Tong, Justin Heyes, and Rizal van Geyzel offers at Crackhouse Comedy Club, Taman Tun Dr Ismail.
Malaysia's funnyman Harith Iskander returns with a special Merdeka show titled in which he explores the history of Malaysia through comedy. Harith Iskander's Wish I Was There also features comics Keren Bala Devan and Sulaiman Azmil. It takes place on Aug 31 and Sept 1 at The Joke Factory in Publika Shopping Gallery.
Watch the Merdeka fireworks!
See sparks fly, quite literally from Asia's first and only green helipad bar with a 360° view of the city. Stratosphere Full Moon Party will offer you spectacular views, enticing beverages and most definitely an impressive sound system. Enjoy  party in the sky with an excellent barbecue and dance to the beats of the DJ till late on Aug 30, 9pm, Stratosphere at The Roof, Kuala Lumpur
Spend a day out the family at the farm.
From growing vegetable to the nitty gritty of composting, and transplanting, children will learn to be more appreciative to the food served everyday. The package includes a Herbs Garden Sensory Tour, a cooking class, a picnic plus other relaxing activities such as catching rainbow fish. Fun Play Farming  takes place on Sep 1 and Sep 2, 9.30am at Mari House @ Templer Park. If farming isn't your thing, Mari House @ Templer Park also offers a laid back high tea programme that includes a scrumptious picnic, kayak, trampoline and giant bubble activities for both parents and kids. High Tea in Garden takes place on Aug 31 from 2pm to 5pm at Mari House.
Hap-pea Merdeka, Malaysia!