The Singapore Night Festival is back and all you night owls have something to rave about. Running from 17 – 25 Aug, the  festival returning in its ninth edition takes over the heritage precinct of Bugis & Bras Basah once again and visitors can look forward to an enthralling (and yes, mostly FREE!) display of performances, light displays and programmes across 2 weekends.
Revellers can look forward to "Night Lights" – a returning crowd favourite featuring a provocative series of over 14 light installations sprouting across unique pockets, transforming facades of familiar heritage buildings with mesmerising displays that is guaranteed to lit your Instagram game. Good things don't just end there. Coming to you (quite literally and you'll see why) in the 2nd weekend of 23-25 Aug is a riveting series of more than 52 acts and performances. We heard that some of these roving acts makes it way to the crowd in the most unsuspecting places so keep your senses heightened and have fun buzzing from point to point in this sundown trail.
Here are our top highlights to keep your #FOMO game at bay:
FierS à Cheval ('Proud Horses')
We don't suggest you hold your horses on this one. Presented by the French outdoor theatre troupe Company Quidams!, watch larger-than-life illuminated horses strutting & dancing while seemingly being let on the loose as they make their way up close & personal to unsuspecting revellers around the precinct.
Lords of Lightning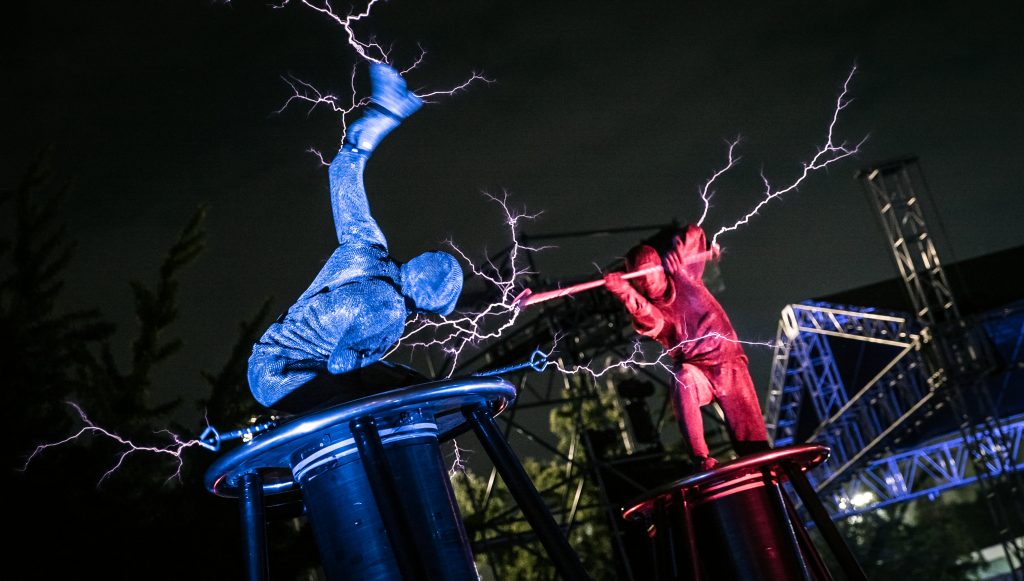 Making their way into Singapore for the first time, the UK troupe is set to captivate your gaze with its show of electrical wizardry. The performance features a duel of over FOUR MILLION volts of electricity and be prepared to have your mouth agape as it sends lighting bolts hurtling into the air. Anyone called for Thor? Who knows.
Festival Village (23-25 Aug)
 Of course, what's a festival without the option to feast and shop your way through? Make a pitstop at the Festival Village @ SMU where you'll be serenaded with a string of live performances as you ease into the night. This is also where you could dig into an array of food options if you're looking to refuel from that early dinner or pick up something from the craft market if you're looking for something to bring home, on top of a populated camera roll of course.
Graffiti Alive
Watch the back alleys of Armenian street transform as you've never seen in this installation that mashes art and technology  through the use of motion sensors and lights that brings local street art to life. The result? An intriguing nighttime streetscape that will have you pondering about the space you thought you once knew.
Aquatic Dream
Be transported underwater in this collaboration between agencies Lekker Design and Auditoire, who through the clever use of UV lights, mist and props of jellyfishes suspended in mid air, transforms the lawn at the National Museum into a magical marine environment, revealing a world of uncharted wonders between the earth and sea.
There you have it, our top 5 highlights for this year's Night Festival but of course, with over 70 different acts, performances, programmes & showcases, this is definitely a midsummer celebration you don't want to miss. Be sure to check it out and who knows, you might just see some of these familiar landscapes in a "different light".
The Night Festival runs from 17-25 August 2018, 7:30pm – 12am. For more information on festival guides, maps, programmes and highlights, visit: https://www.nightfestival.sg/