Experiment with these five post types for Facebook to portray your event in a comprehensive and appealing way to your event's target audience, each with plenty of suggestions if you're feeling stuck.
1. Posts that tell the story of your event
Does your event have a clear narrative? If your event was a superhero, what would their story of origin be? Every event has a reason for its being — be generous about sharing it! Budding event organisers could learn a lot from your thought process, and the inspiring steps you took to make your event happen. If your event has received considerable publicity that already addresses these questions and paints its story (via interviews, for example), share these on Facebook leading to the big day and emphasise the best parts of each article. Storytelling posts of these type include:
Shoutouts to sponsors and their contributions to your event
Explaining why you're doing this event, and for whom
An inside look at the 'characters' of your event
News articles, video interviews
Event programme and itinerary
In-depth looks at each sub-event or fringe event if any
Preparation advice for your guests before they come (e.g. directions, what to bring)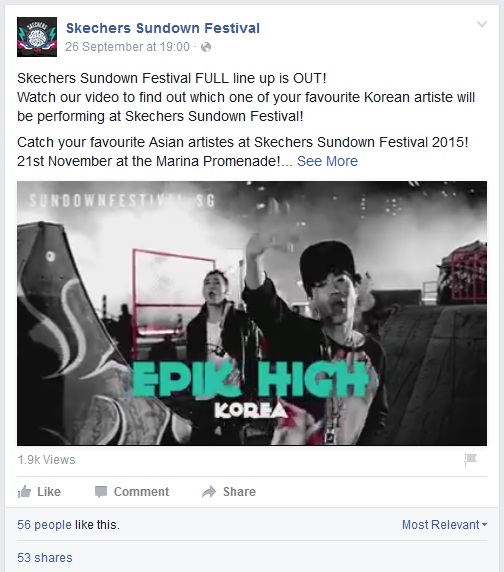 2. Posts that contextualise your event
Most events do not exist in a vacuum, they typically relate to a current passion or a cause. Promote your event by successfully situating it in its wider context with the following bigger-picture posts:
Recent news articles related to what your event is addressing
External discussions taking place around the world relevant to the themes of your event
Intriguing data your attendees should be aware of before they arrive
Information about the community and culture your event is situated in— especially helpful for people from out of town
3. Inside looks behind the scenes
In response to the paradox of technology bringing people closer together whilst simultaneously isolating people in reality, brands and marketers are increasingly becoming more authentic. It is incredibly rewarding for any brand to step behind the glitz and glamour and show their audience a raw and unpolished view of what happens behind the scenes. Being vulnerable with your target audience is a great way to engage. Images that create an emotional connection to your event helps build a sense of attachment and generate its own buzz. Keeping-it-real posts of this type include:
Sharing the planning that goes into an event
An elegant and light-hearted approach to disclosing challenges that pop up along the way and how your team overcame them together
Profiles of everyone working hard to make this event happen— acknowledge their talent, skills, support, and hard work!
Shots of your team hard at work and of setting things up at the event
4. FOMO-inducing posts
It takes a skilled community management team to create a sense of FOMO (Fear Of Missing Out). Not all of your followers and audience will be able to attend your event, so what sets those who show up apart? What information can you share that swings a person from RSVPing 'Maybe' to 'Going'? Posts of this type include:
Listing perks that people who show up will enjoy (eg. what's in that goodie bag?)
Hints at a mystery guest or surprise during the event
Actually listing what they will be missing out on if they come
Perks exclusive to the event that will not be available anywhere / anytime else
Ticket promotions and discounts for people who show up in groups
5. Just for fun posts
Promoting your event with a healthy sense of humour is never a bad thing. Don't be afraid to show off what makes your event and your team a little goofy, imperfect, flawed and human just like everyone else! In the age of overshare and keeping it real, it isn't worth it anymore to come off immaculately put together. Your community wants to be pleasantly surprised by how accessible and witty you can be. Posts of this type include:
People laughing
Pranks played
Costumes worn
Funny faces pulled
Memes invented
Inside jokes and running gags
Cat photos! It is no secret that cats rule over the internet animal kingdom.
Would any of these five post types for Facebook work with your audience? Experiment with posting! But in doing so, firstly consider what your target audience for your event would be interested in seeing on their Facebook feeds to entice them to engage – like, share, comment – with your post. Engagement is key to reaching more of your current Facebook following and tapping into their social circles, to renew or pique an interest in your Facebook page.
Pro-tip: Set aside a social media budget to promote posts on Facebook to garner more eyeballs, particularly posts you think will strike a chord with your event's target audience or posts that have proven itself with high engagement from your current following.
---
Read more: 6 ways you can create Instagram-worthy photo moments at your event