While events may be about bringing people together, digital solutions have also made it possible for communities to thrive online. Consider the numerous interactions exchanged through the networks on a daily basis – from casual messaging chats to remote business meetings, it might not be a stretch to say that we spend more than half of our waking moments online.

Here at Peatix, we understand the recent virus outbreak may have caused concerns to both organizers and attendees alike, with organizers pondering over the possibilities of cancelling or putting a planned show on hold and attendees, cautious about gathering amidst a large crowd in confined spaces. However, with the many digital solutions designed both to aid and enable online interaction, life does not necessarily need to come to a standstill. Why not take this opportunity to explore a new format by bringing your events online? Ready to learn more? Let's get started:

Event planning is hard work and similarly, when it comes to hosting online events, there are some basic requirements to be mindful of. Here are some things to consider when planning for an online event:

1) A conducive space
Make sure you are hosting the event from a space that has a steady internet connection, with backup networks should one fail you. Chances are that you'll be conducting this event live in real time hence you would not want to be flaking off, getting disconnected or experience a lag – all of which will form a pretty frustrating experience for attendees tuning in
2) Lights, Sound, Camera, Action!
Have good proper audio/visual equipment and test run your delivery to make sure recipients on the other end could watch & listen to what's being delivered, optimally. Sometimes certain spaces may sound too roomy with echo feedback or the lighting may be overexposed, depending where the camera is placed so test out your AV setup prior to running the session and likewise with organizing an offline event, leave nothing to chance.

3) Solutions / Platforms
Next, you'll need a platform to connect with your attendees. Here are some options to consider:

Confused by the difference? Essentially, Google Meets is the enterprise alternative of Hangouts, and it is available as a product under the Gsuite line up. Designed for a more seamless dial-in experience, participants can now simply sign in by clicking on a shared URL as opposed to Hangouts where an invite is needed. Meets allows up to 100 participants on its basic plan, while Hangout is limited to a max of 25 participants. Learn more about the differences between the 2 here.
b) Zoom
If budget is a concern and all you require is a no-frills, video conferencing solution, Zoom's free basic plan allows for free sessions up to 100 participants, lasting for 40mins. View their plans here.

Planning for an online conference and looking for a jazzier setup? Adobe Connect allows you to customise "pods" for various breakout purposes while collaborating behind the scenes during live sessions. The basic "meeting" plan, starting from $50/mo allows up to 25 participants while the more advanced "webinar" plans, allows up to 100 particpants with prices starting at $130/mo. More info here.

Planning on a free event anyway? If you are not too concerned with making the event exclusive to a selected few, why not consider hosting it via the "live" feature on the socials? Of course to pull it off, it is best to make sure you already have some form of following on these accounts who will be notified once you go Live. Otherwise, you might want to consider marketing the event prior, to create some form of awareness and also to give people enough lead time to locate follow your page. However with fresh new content populated on social media every millisecond, you will have to hustle hard for attention span, not to mention with this content being served for free, people will have no qualms dropping out mid way and attrition rate would be something you should expect.

4) Marketing your online event:
With the setup done, similar to a regular offline event, next up you'll want to think about getting the word out and ideally have more people discover the online event you're hosting.

Here at Peatix, we've similarly noticed a spike in the number of online events on our platform and have recently introduced a new update, which allows for organizers to label their event as "online-only", without having to indicate a physical location. By labelling your event as "online only", attendees will also be able to filter solely for online events – which allows your event to be more easily discoverable by those looking to attend virtual events.

a) To get started, simply create your event page as per usual, entering the event's name, date & time
b) Select the country where you would like for the event listing to show up in (For example: Japan, Singapore or Malaysia) and tickets will also be charged in the chosen country's local currency where applicable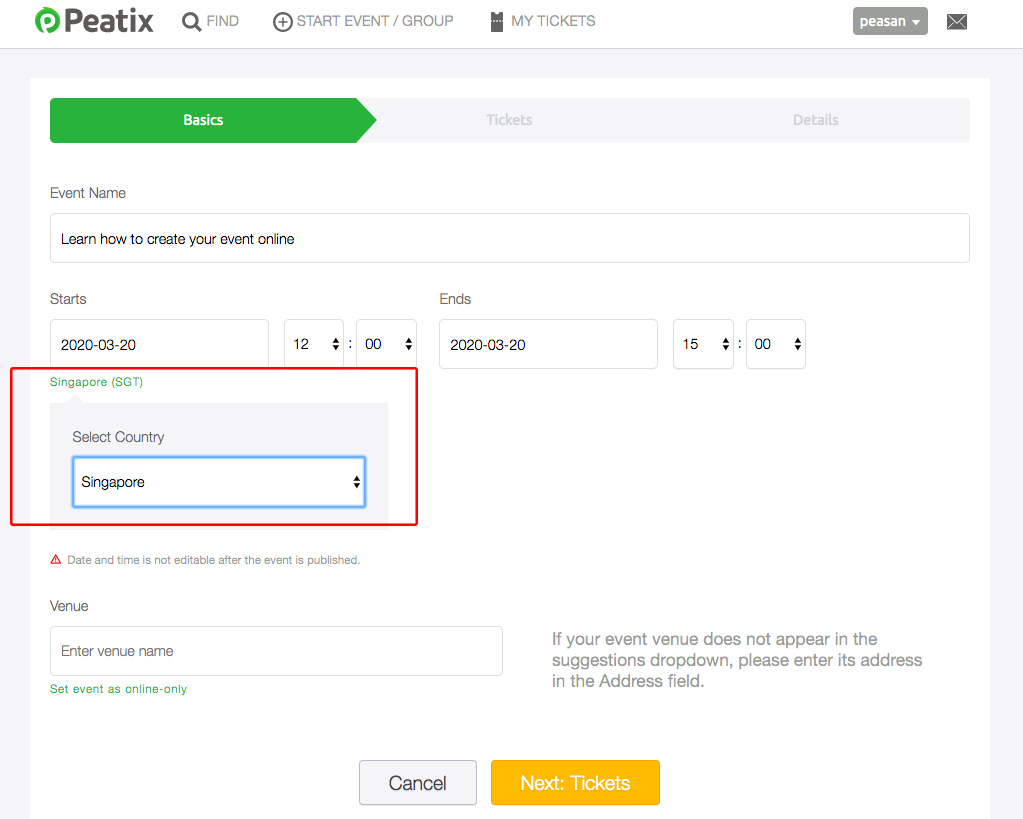 c) Once done, instead of entering an address in the venue field, click on "Set event as online-only"
d) "Online event" will automatically be populated in the venue field
e) Carry on with creating your event page as per usual by deciding on the ticket types applicable for your event by clicking "Next: Tickets"
f) Save and publish your event when ready
With your events now labelled as "online only", attendees looking to attend these virtual events can easily identify them while browsing through the thumbnail listings or simply filtering out for online events.
Additionally, whenever you publish an event on Peatix, our recommendation system ensures your event gets shown to those who have attended or indicated interest in other similar events so your events are not just simply listed, but they also show up to the ones who matter.

We may be going through difficult times but what's even more challenging is perhaps, grappling with the notion of staying apart as a means of keeping everyone safe. So while we do what's necessary to protect ourselves and keep the communities that we serve safe, let's not forget that we can still come together, in both the good and the bad, offline or online.
Questions? Find out more about creating an event page for your online event here or reach out to us anytime at: https://peatix.freshdesk.com/en/support/tickets/new