In the 5th episode of the Peatix Group Chat, we spoke with the Chief businesswoman of Creativesatwork Jayce Tham, on Freelancing & the future of work and what freelancers can do to give themselves an advantageous edge in times of an economic downturn. If you've missed the episode, here's a summary of what we spoke about or you can catch the video here.
Freelancing in recent years has been gaining more widespread acceptance worldwide and in the last report by the Freelancers Union in 2019, there are more than 57 million freelancers in the United States, which represent around 35% of the workforce in the country. Closer to home in Singapore, freelancers have also been gaining traction and as validated by the recent budget relief, freelancers, officially classified as self-employed, are also being supported with payouts disbursed to tide through these difficult times.
When asked if this was a result of the gig economy & whether this is an indication of where the future of work is headed towards, Jayce has mentioned that Technology has long enabled work to be done remotely with the current pandemic only accelerating the trend. With companies likely to move forward with trimmer workforces and automating processes like never before, it presents great opportunities for freelancers across the board since cost savings will be a priority for many companies and engaging experts only when the need arises, could also be more cost-effective in the long term. Jayce also added that companies and clients have been on a lookout for candidates with multiple complementary skill-sets, which is hardly surprising, considering the leaner budget.
On the topic of skill-sets, we asked Jayce about what freelancers can do, to give themselves an edge amidst these competitive times and she re-emphasized the importance of upskilling, developing new skills to an existing arsenal. She added that with the pandemic, while it may seem like many projects or opportunities may have come to a halt, this lull period may also be the best time to pick up new skills so you can be ready, above and beyond when the market picks up again. "Think of it as having a core skill, which can be further complemented by a secondary skill", she said. Also, she warned against being too fixated with a specific industry and to keep an open mind, evaluating the possibility of pivoting into other related fields where your existing skills may be transferable. Lastly, knowing how to brand yourself with personal branding will help you differentiate yourself from the crowd.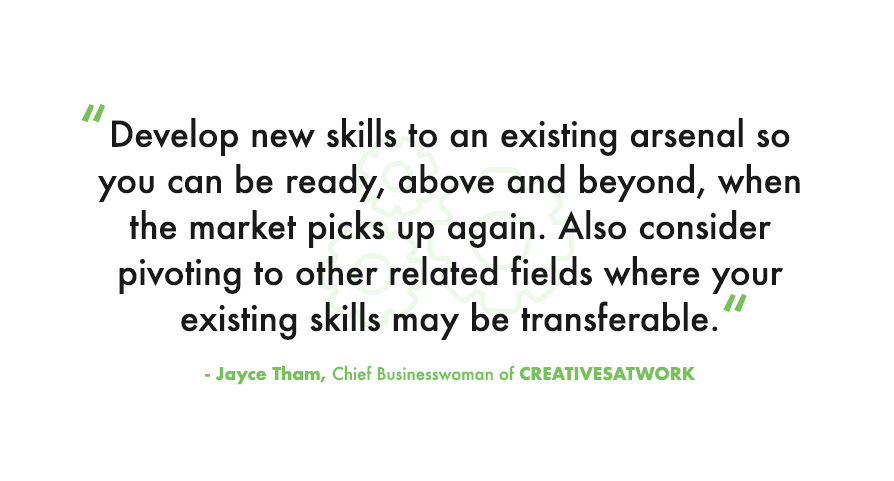 On advice for people who may be about to consider embarking on a freelance career, Jayce has similarly cautioned that as with most careers:
Consider your suitability, including the ability to handle multiple projects and tasks
Secondly, and more importantly, know that for most freelance projects, the payout may only be made upon the completion of the project which can take months, hence if you find yourself in the position of requiring cash urgently, either have stop-gap measures, perhaps side gigs you can do at the side if you still feel strongly about embarking on a freelance career, have emergency funds to fall back on so you don't run into a risk of self-sabotaging or consider a full-time job instead."
Often under-considered amongst freelancers, is also the importance of building multiple revenue streams and look beyond just a service fee, especially if you're considering a serious freelance career for the long term.
Jayce and Creativesatwork run a series of workshops at https://www.freelancing101/ that helps interested parties get ready for a freelance career and also a podcast at https://www.freelancecreativeexchange.com/. If you're keen to embark on a freelance career or looking for freelancers to help with your creative projects, Jayce can contacted at: jayce@creativesatwork.asia
Or if you're a freelancer looking to explore a side hustle, why not consider hosting your very own online event? Find out how you can easily create your own event with Peatix and check out these resources to help you get started.