From Working From Home woes to the stress of uncertain times, managing your mental well-being is of utmost importance during these trying times.
In our 4th edition of Peatix Group Chat, we spoke to Relate Malaysia founder and clinical psychologist Dr Chua Sook Ning, O Psych CEO and organisational psychologist Hetal Doshi and Emmaus Strategies founder and Lead Thrive-Synergist James Lim on online mental health resources and strategies for leaders to support their teams during the pandemic.
On an organisational level, Hetal explained the importance of having effective communication strategies that are based on the impact you want to achieve.
"Information that leads to the impact you want, matters. What do you want at the end of the day? If you want your people to feel safe and secure, then you communicate in that manner and you give them all the information they need to feel supported."
Hetal offered an example of a company leader who conducted a town hall meeting who chose an interesting approach, by disclosing all financials and projections to assist their employees in making independent decisions.
The leader said the following:
"Our objective here is to make you self-sufficient whether or not you are with our company and our job is to provide you with all the information on how our company is doing financially and to what extent we can help you."
Through this example, Hetal emphasizes that leaders must not only design an impact to outcome based communication but also ensure the communication is consistent among all leaders in the company.
"The intent is very important. Impact, intent and uniqueness. If you have nothing unique to say, just back off." she said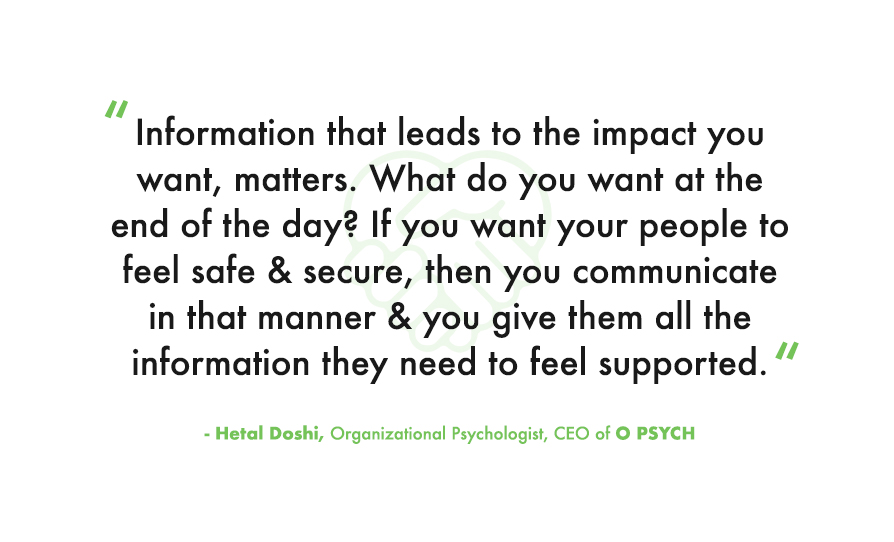 With more people working from home, James talked about the varying woes encountered by those who work from home while juggling the needs of family members under the same roof.
He explained the need to set rules and boundaries to help family members understand his needs, using an example of his own home.
"The door is very helpful. I closed the door and I printed a big emoticon with a smiley face and a Shhh next to it. I've explained to my kids that when you see the door closed and you see this sign, it means you must be very quiet."
"Having a routine helps reduce anxiety and uncertainty. It is especially important for kids and for us as it helps us divide our time and set priorities."
With so much to do and everything seeming like it needs to be done at once, James advises us to think through and identify our Most Important Tasks.
"Take your battles as a weekly battle, don't squeeze too much on your to do list in a single day. Manage your expectations and make time for maybe 3 important tasks in a day."
James also talked about carving time out for friends and family, 
"Check in on family and friends, a simple 'How are you doing?'. Even if you can't do it face to face now, a simple text or call goes a long way. Take time to bond with family members who you may be with and be mindful of the time you spend on screens."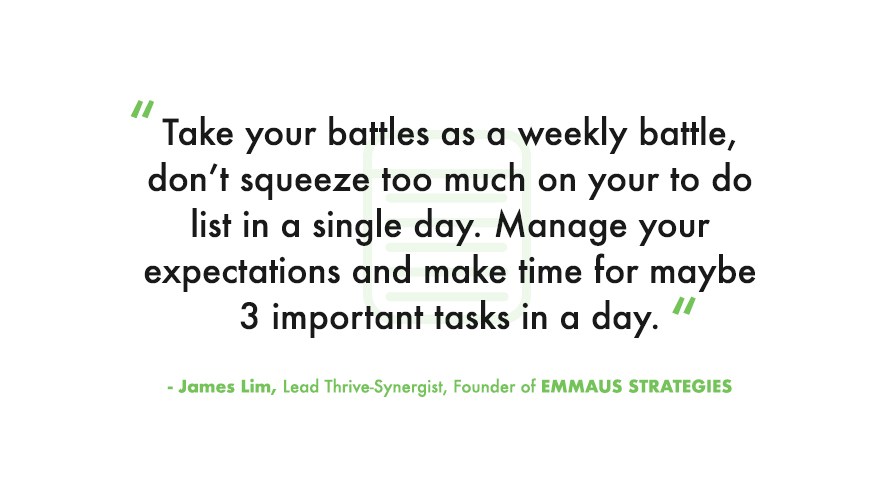 Beyond the home and work front, Dr Chua explained that our environment makes a tremendous difference to our mental health. As such we need to pay attention to our physical space and think about how we can make it safe for ourselves.
She reiterated the importance of self-care and recognising our individual needs.
"We are a species that hates uncertainty. We can't solve a lot of the problems before us. Make your world small, we can't fix all of the problems but we can make our world small enough to focus on today, making steps to just look at our financial statement, focusing on that part instead of everything else in the world
Dr Chua also offered a few vital mental health resources available in Malaysia and Singapore, emphasising that this information needs to be communicated in multiple languages to ensure everyone can understand and garner information.
"Connecting is a fundamental psychological need and we should not feel bad about our varying levels of need. Loneliness is a very real problem, some people need more social interaction compared to others. It's okay to talk to someone to help you out of it.
"Call the hotlines if you need to and do it as often as you need to, because there is absolutely no shame and that is exactly what the hotlines are for." she said.
Resource List:
For more insights on how you can improve your mental health, tune in to the full episode of our chat here.
Curious to find out how Peatix can help you with your online events? Check our resource page for more tips and ideas on getting started or simply get in touch with us here.