Introducing self-tagging, where organizers can now access over 100 tags, picking out the most relevant ones that help enable better discoverability for your events!

If you have been hosting events on Peatix for a while now, you may know that tags are nothing new and in fact, tags form the basis and structure of how events on Peatix are categorised and made available for search. You may have even noticed these tags at the bottom of your event page, allowing attendees to cross-search for other similar types of events but what you may not know is, these tags do not self-populate by coincidence. After organizers are done creating and publishing their event pages, the Peatix team goes on to review them before assigning these with relevant tags that would make them discoverable and sorted into respective categories.

So why self-tagging now, you ask? Over time, we've come to understand and observe that no one knows their events better than the organizers themselves and as a self-service event discovery platform, we believe in empowering organizers to make the choices, best-suited for your events. You should be able to decide if your event should be discovered under "Arts / Culture" or if it is more of a "Parties & Nightlife" thing rather than have us make that decision for you.

Now that we've gotten this out of the way, let's get down to how self-tagging works and how you can start self-tagging your events on Peatix!

First up, let's get started with a quick explanation of how tags are structured on Peatix. Currently in SG & MY, there are over 15 categories where organizers can choose from:

Arts/Culture
Business
Causes/Non-profit
Dating/Singles
Family/Kids
Fashion/Beauty
Film, Media & Entertainment
Food/Drink
Meetups / Community
Music
Parties/Nightlife
Religion/Spirituality
Science/Technology
Sports/Wellness
Startup
Theatre/Dance
Categories like the above, help sort all events into genres which attendees can search from, during the event discovery process.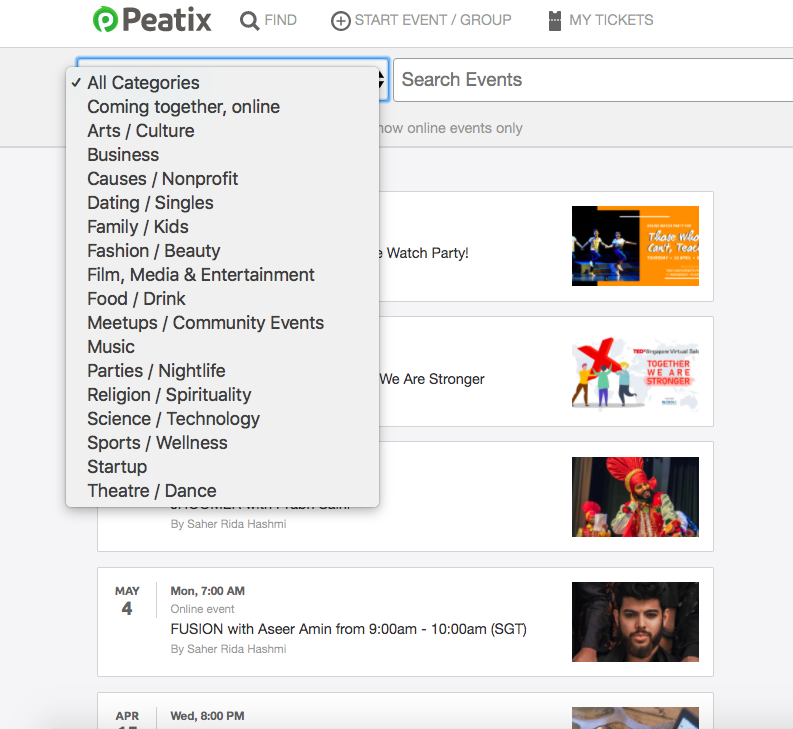 By picking the category most applicable for your event, you are defining the genre for your event. Hence, remember to pick the one most likely to be associated with your event and consider which pillar where you would want your event to be discovered.

Topics on the other hand, work as narrower recommendation tags and they function mainly as marketing drivers to help attendees discover other similar types of events that they may be interested in. Some examples of Topics include "Heritage, Craft Making, Fundraiser, Film Screening, Dating Activities, Cooking, Yoga" etc…

These Topic tags, appear alongside with the Category at the bottom of event pages, where attendees can refer to for an indication of what the event is about, while cross-recommending other similar types of events, allowing them to further discover similar events they may be interested in. Organizers can also purchase "Boost" (Peatix's paid marketing solution) for the tags your event has been tagged with, increasing the reach of your event where we'll further recommend the event to users who have displayed past interests in attending similar events.
How self-tagging works:
When creating your event page, after setting up the basics such as Event name, date, ticket type, banner image, description and the form, you'll be asked to tag your event. You can also choose to publish your event page first and tag your event at a later time but note that your event will not be discoverable via our search functions until it has been tagged.

1. Choosing ONE (1) main category for your event: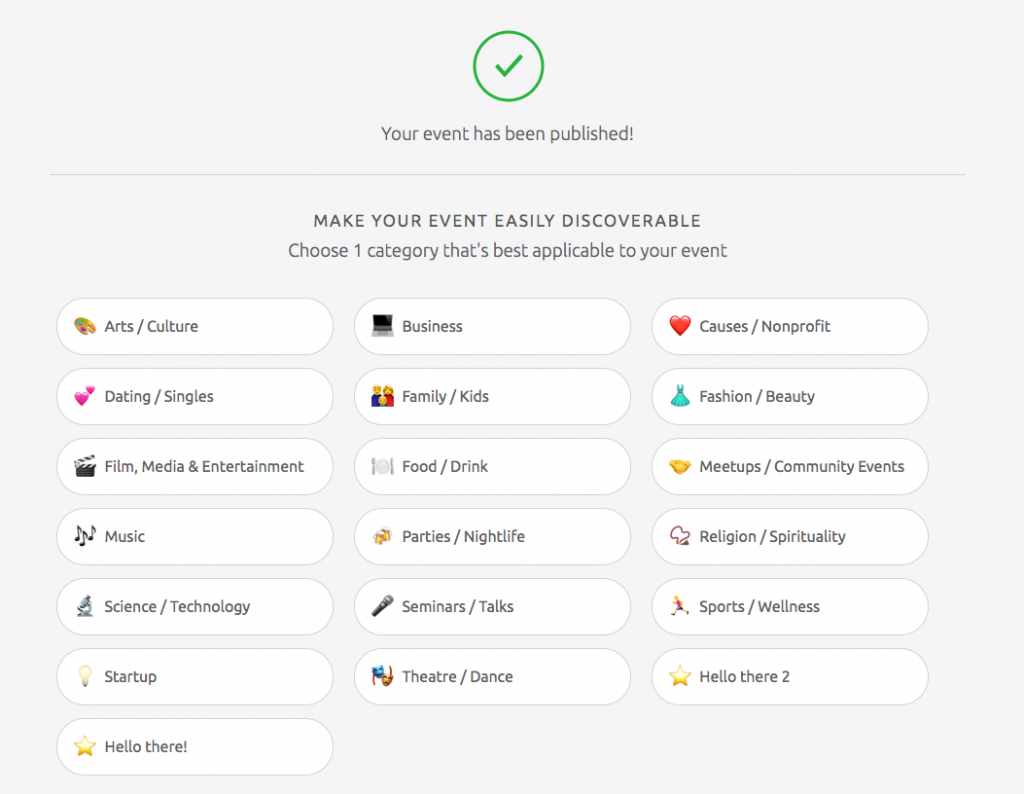 Main categories are designed like genre verticals which allow attendees to search for your event by a broad description. So be sure to choose the category most applicable and relevant to your event so attendees can easily find what they are looking for!
2. Once you are done with picking the main category, you can select up to FIVE (5) topics for your event:
Topics are more-specific recommendation tags that help attendees discover other types of similar events they may be interested in. Some examples of Topics include: "Poetry, Marketing, Cosplay, Product Management, Jazz, Comedy, Improv etc…" There are over 100 topics to choose from so take your pick simply by clicking more to see more selections, or type into the search bar if you already know the topics you'd like to tag your event with. You may also decide to add the topics at a later time while proceeding to publish your event but events without "topics" cannot be boosted nor shared via the Peatix recommendation system.
3. Changing your tags:
Tags, whether Categories or Topics, can be added or changed at any point before the scheduled event date and time, as long as no Boost campaigns have been purchased or scheduled with the associated tags. If you have purchased or scheduled a boost, you will not be able to change the promoted tag(s) until the campaign is completed.
To change your tags, simply make sure you're logged into your account, go to your event page, click "Edit", scroll to the bottom and you should see the currently selected tags. Simply click on "Change tags" to change the selection.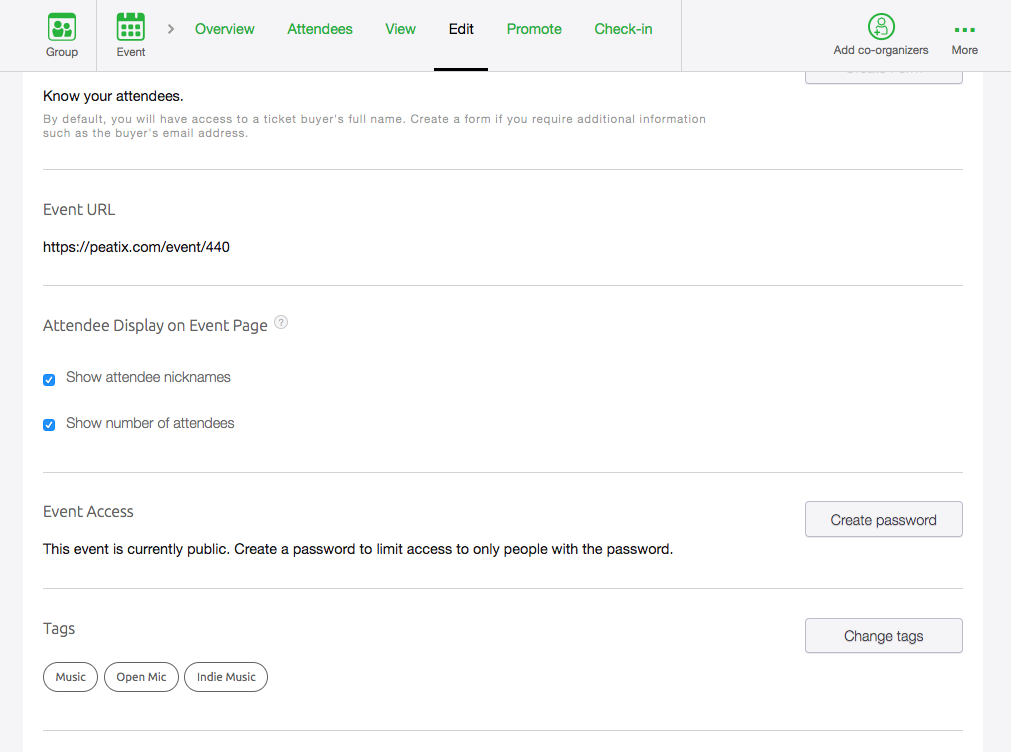 Purchasing Boost:
By picking your own tags, organizers will also have more flexibility in choosing the tags to boost. Previously, boost options are only available to tags that your event has been tagged with but now with that power in your hands, easily pick out the ones you would like to run a paid campaign with! Read more about Peatix boost here.
The review:
As with before, to safeguard our community and users, all published & tagged events will still have to be reviewed before the content can be made available for search so we would strongly encourage our organizers to tag their events early, giving it more time for your event to be discovered and recommended on Peatix!
There you have it! Have fun adding these tags to your event and as always, feel free to reach out to us at: https://help-organizer.peatix.com/en/support/tickets/new if you need the extra help with tagging or have any questions we can help with!