In the 7th episode of the Peatix Group Chat, we went live in conversation with 2 extremely entertaining guests, no strangers to the comedy scene, comedians and producers Sam See and Shamaine Othman to hear their takes on the role of comedy in a pandemic and how the art of performing has changed along with evolving viewing patterns.
If you've missed the episode, here's a summary of what we spoke about or you can catch the video here: https://www.facebook.com/Peatix/videos/3243447462354827/?v=3243447462354827:
No strangers to the realm of virtual performances, both Sam See and Shamaine Othman have started migrating their shows early into the pandemic upon observing how physical gatherings were getting increasingly difficult. When asked about the key challenge in bringing their events online, Sam cited that for him, it was about "maintaining that fan base" towards the migration onto a new medium and competing with all that's going on in their homes. In combating that, he's had to consider new show formats, introducing things that are vastly different from what's in the market, booking in unique guests and acts that people haven't seen before and in doing so, leveraging the fan bases of his guests to bring about a further reach. He's also had to adopt a more business approach to running his shows online, where instead of focusing on the hospitality aspects which was a core consideration at a physical show, he had to now learn what kept people engaged online and understand why people don't stay on beyond a certain time. In summary, his biggest challenge with virtual shows was grappling with constantly evolving yet knowing when to stop himself. 
For Shamaine, her biggest challenge with online shows was having to get used to the silence. Not being able to hear the audience's laughter or watch their facial reactions meant she had to tweak her delivery towards narrating a story, rather than putting forth a punchline which was a structure commonly seen with physical comedy. Sam echoes that sentiment, adding that he now thinks of online acts as a monologue where instead of having to wait for applause, he cues in programmed silences that would actually make sense. On this note, he also re-asserted that when it comes to mastering the new form of performing, "it is crucial to adapt, or die."

As the producer of improv series, AIIA improv, Shamaine not only had to crack the code to online comedy but similarly learn how the art of improv can similarly be translated online. For that, she shared that together with her team, they've had to go through numerous rounds of virtual rehearsals, identifying what kind of games would be suitable for Zoom and it took almost 7 weeks, before they got their first show up and running. Since then, Shamaine also shared that through these livestream shows, she's had many audiences telling them that they've got to continue with the online offering, indicating a newfound demand and Sam agreed likewise, that he will most definitely be continuing with a virtual offering even when physical acts are permitted again. 
When speaking about the role of comedy in a pandemic, we asked both Sam and Shamaine if they felt people were ready to laugh and whether there were more sensitivities that applied during these difficult times. Sam thinks while what people may consider funny haven't changed much but their reactions may have differed. Laughing is a social experience, made better in a crowd with people, and in isolated environments such as watching a comedy on a screen alone at home, you tend to express that laughter in a more muted way. "People are always ready to laugh, people are always ready to be entertained regardless of time, place, or position. It's how you react that's different."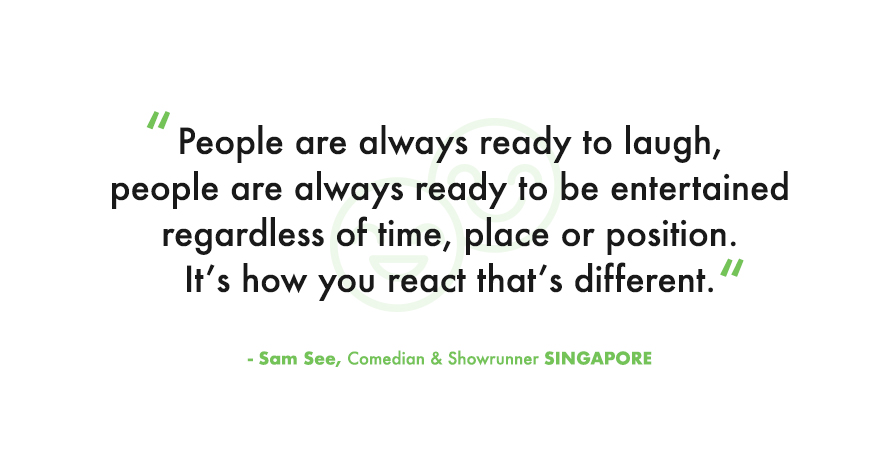 When posed with a question from the audience on how the comedians have learned to tell whether people are actually enjoying themselves with a lack of laughter, the 2 speakers echoed that for livestreams, in spite of not being able to see or hear from their audiences, there are still interactive elements present. Certain platforms provide a live tipping element, where people could donate or pledge dollars in realtime and that's a good barometer of whether people are enjoying your show or not. Otherwise, there is also the comments section, where people could react with emojis or respond with words typed out, so while performers may not be able to "see" their audiences, there are other indicators present which allow performers to gauge whether or not a show is going well.
We also asked Sam the million-dollar question – on how he plans to continue sustaining the free livestream acts and whether there are bigger plans in place to generating revenue. To which, Sam admits it is something he's still thinking about but he's also using this period as a beta-testing phase, making tweaks and finding a formula that works which he could later use to pitch to producers and showrunners and eventually networks, whom everyone knows, love having the details on the viewers' demographics and the hard numbers.
In speaking about how performers can bring more value to their gigs, Shamaine concludes with the advice that with media content being democratised and everyone rushing to produce something online, it is also a good time for performers to consider owning an IP in experimenting with new formats. 

To catch more of Sam See and Shamaine Othman, check out https://www.facebook.com/mrsamsee/ and www.facebook.com/aiiaimprov and if you feel strongly about supporting the art of their craft, cheer them on by attending one of their upcoming shows!