The pandemic is far from over. While we are slowly emerging out of the lockdown period, many communities are seeking aid and financial support to help them tide through the difficult year.
Fortunately, we are seeing a surge of goodwill through many fundraising campaigns across Singapore and Malaysia. Watching more people gear up to help others has inspired us to learn more about the nitty gritty of fundraising, such as:
How to identify a cause or benefactor to collect aid for?
What are some innovative ways to encourage people to donate?
Are mock cheque ceremonies and post-campaign fanfare a thing of the past?
In our sixth edition of Peatix Group Chat, we tapped into the insights of Justice For Sisters founding member, Thilaga [Trans Solidarity Fund] and Night Owl Cinematics chief executive officer, Sylvia Chan [#SGPAYSITFORWARD].
The Trans Solidarity Fund was kickstarted by SEED Foundation and Justice For Sisters to support trans people affected by Covid-19 in Malaysia. It's target beneficiary group are trans people in the B40 category; those who are unemployed, make below RM900 a month or face a high risk of falling into poverty,
Thilaga explained that the fund serves as a nationwide support system which reaches out to other parts of the country beyond central Kuala Lumpur and Selangor. The monies are channeled towards purchasing basic needs such as groceries and medicine as well as paying rent.
"Justice For Sisters have been fundraising for a while now. Folks who are familiar with our work don't just donate but also help to amplify and support the work we do. They have written articles about trans women in need of support which has helped people change their perceptions on the trans community and gain better understanding of the issues they are facing.
"When you have built a network and have established some credibility and legitimacy, it is easier to gain support from members of the public and for them to also amplify the work that you do, and also get involved in different ways," they said.
Before Covid-19 struck, the trans community were already in need of help and financial assistance. However, Thilaga explained that there is a misconception that LGBT folk are seeking "special rights" and privilege, therefore their fundraising must be paired alongside efforts to educate the public about the trans community.
"LGBT and trans people in Malaysia are very vulnerable. We recently finished a research with The Human Rights Commission of Malaysia (SUHAKAM), involving 100 people. The results show that 50% of trans people live below the poverty line.
"Education is an ongoing thing. In the process of fundraising, we have to educate people and clarify that there are actual needs [in the trans community]," they said.
With long term and frequent fundraising campaigns, Justice For Sisters actively works on restrategising their efforts by encouraging smaller local groups to kickstart their own fundraising initiatives.
"We don't want to financially drain or exhaust our donors and people who are contributing. For every fundraiser campaign, there needs to be a timeline and the fundraising strategies have to be diverse."
"We are very excited about the decentralisation model, because it is important for us to build ecosystems at the state level so that things are far more sustainable. Whenever you do things at the federal level alone, you are not going to be able to reach as many people.
"Through the fundraising we've done, we've also seen people who are keen to have their own local fundraisers or state level fundraisers.
"We have timelines, diverse strategies and also look at how we can decentralise and empower communities at the local level to do resource mobilization and build ecosystems that can support the needs they are facing." they said.
Being a digital media agency, Night Owl Cinematics used its strengths in collaborating with local businesses in Singapore and worked with the Ministry of Culture, Community & Youth (MCCY) to create the #SGPAYSITFORWARD campaign.
The fundraiser had a simple and clear goal: to fundraise 100,000 care packs to be distributed to vulnerable communities in Singapore. Each care pack contained hand sanitiser, disinfectant spray, antibacterial body wash, wipes & hand soap, Vitamin C and surgical masks.
Sylvia explained that she wanted to formulate a sustainable campaign that enabled more people to get involved with the cause.
"It has to be a campaign that is not just about the public or the groups, it has to be more about the power of solidarity. Everyone has to come together and do their part. We can't make it seem like any one [singular individual/group] is benefiting or making a profit.
"We wanted to take profits out of the equation. So, we approached the business owners and suppliers and convinced them to sell the care pack items at cost price, so that the average Singaporean could purchase it at a more affordable price.
"The actual price of one care pack was $43 but we sold them for $25." she said.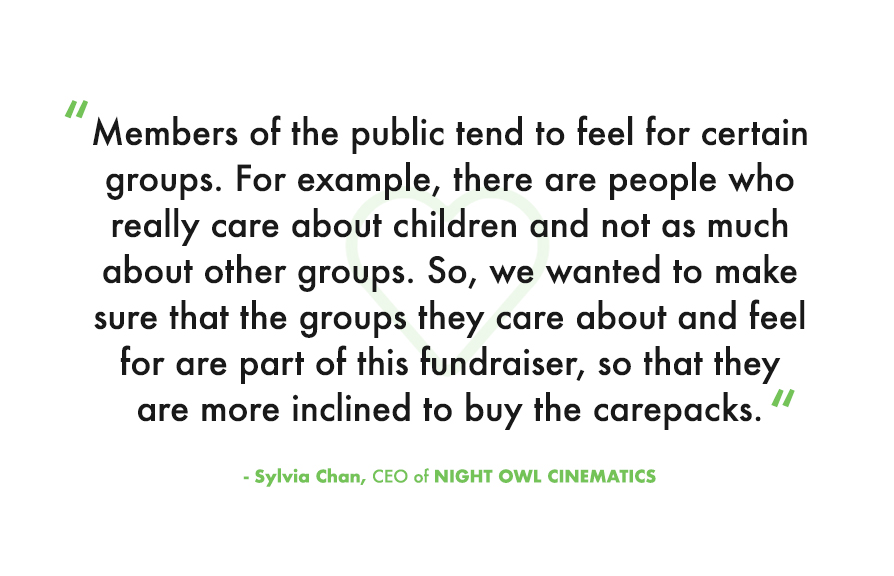 Alongside NinjaVan and a plethora of other local businesses, Sylvia also worked closely with the MCCY, YAP, Young NTUC and National Youth Council to identify a list of 40 beneficiaries.
"When we were identifying the list of beneficiaries, we tried to find a list that allowed us to help every single group in Singapore. Apart from migrant workers, we made sure there were groups for children, elderly, single mothers and people in poverty.
"We really tried to target as wide as possible to make sure we were not leaving anyone out.
"Members of the public tend to feel for certain groups. For example, there are people who really care about children and not as much about other groups. So, we wanted to make sure that the groups they care about and feel for are part of this fundraiser, so that they are more inclined to buy the carepacks," she said.
Once the fundraiser is complete, the common spectacle to bookend a campaign is a mock cheque presentation to the beneficiaries. Sylvia said that this pageantry was not present as much during an online fundraising campaign.
"The people in need are the most important and meeting that objective is far quicker online.
"Theatrics are great for hype and marketing sake. However, at the end of the day, an effective fundraiser is about getting the money and care packs to the people.
"Running it digitally, while it has no fanfare whatsoever, it is the fastest and most efficient way to reach the objective," she said.
Learn more fundraising strategies by tuning in to the full episode right here.
Whether you're hosting an online or offline fundraising event in Singapore or Malaysia, take advantage of our preferential rate for fundraisers at only 3.5% (with no further processing fees or hidden charges) simply, by applying here.