You can now work across teams, without sharing your account password, thanks to Peatix's new Roles feature.

With Roles, you can add and remove collaborators from a group and events without having to give away confidential login information, ensuring that only those authorised will have access.

If you want to manage an event with multiple users, you can add them as a Co-Organizer

Once listed as a Co-organizer, the user is granted limited access by the organizer to the specific group and its events.

A Co-organiser will be able to edit the group and event pages, access sales and attendee information, and manage ticket sales.

In Groups, a co-organizer can
Edit the group page
Access the follower list (check account nickname and full names of the followers)
In Events (within the group), a co-organizer can
Create and edit new event pages
Edit, publish and cancel existing event pages
Purchase Boost services to promote the event (Japan & Singapore only)
Access the attendee page and download the attendee list (including form data), of both new and past events.
Manage sales
Name search check-in using a computer
For more information on how to add/remove and what a co-organise can/cannot do, visit the Help Center.
How to add a co-organizers
You can add a maximum of TWO (2) users as co-organizers, by following these steps:
Step 1
Inform the user(s) who you want to add as co-organizer(s) to follow the group.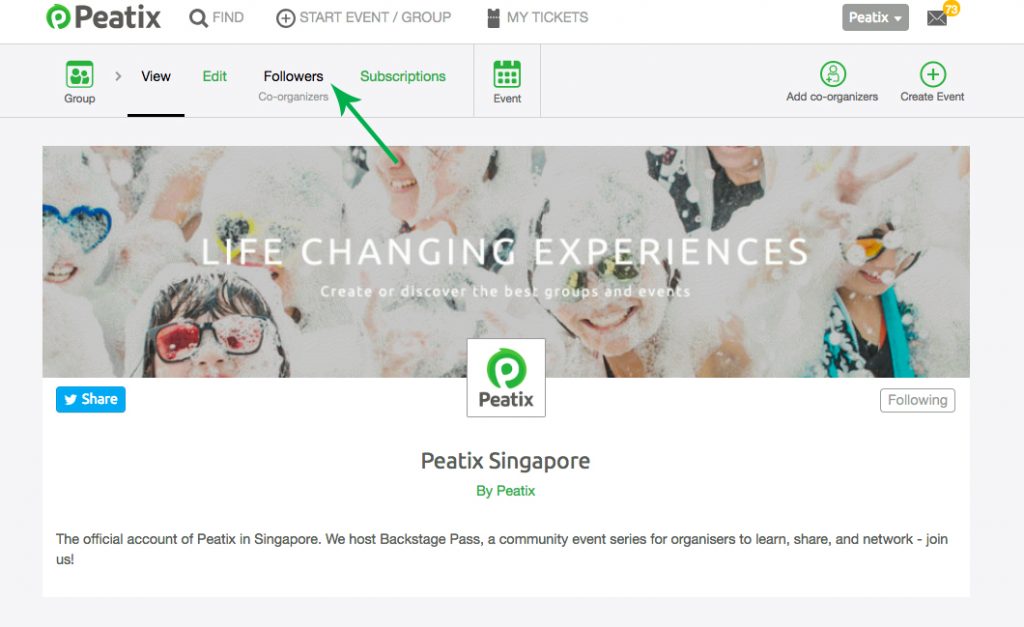 Share your group URL with the people you want to add as co-organizer. They can become followers of the group by clicking the Follow button on the event page. To follow the group, they will first need to create a Peatix account, or login to their Peatix account.

Step 2
Access the follower list of your group.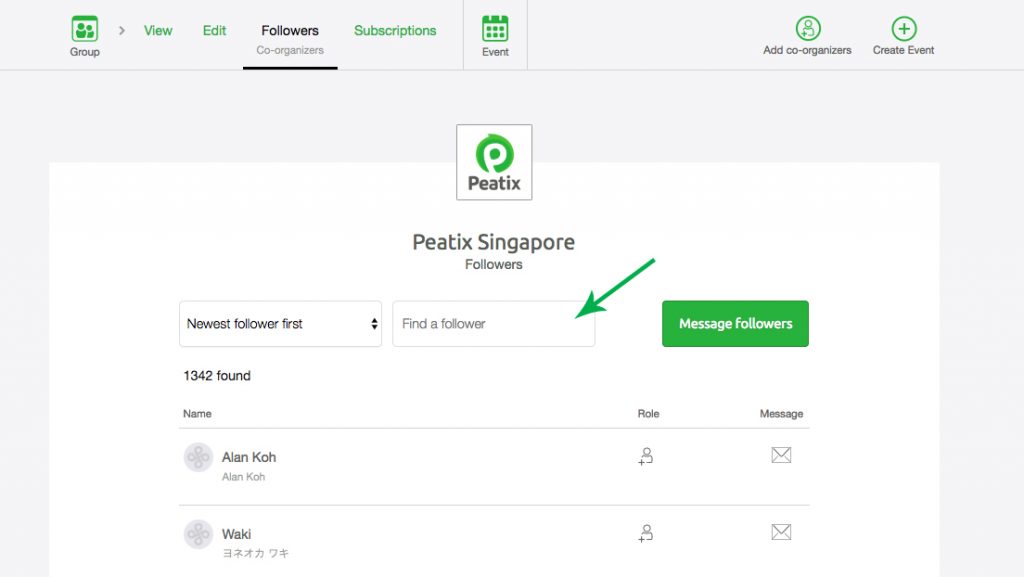 Step 3

From the follower list, search for the account nickname of the user you wish to add as co-organizer. From the "Role" column, click the "Add co-organizer" icon to add the user as co-organizer.


For Co-organizers:

If you are added as a Co-organizer, you will receive a notification email at your registered email address.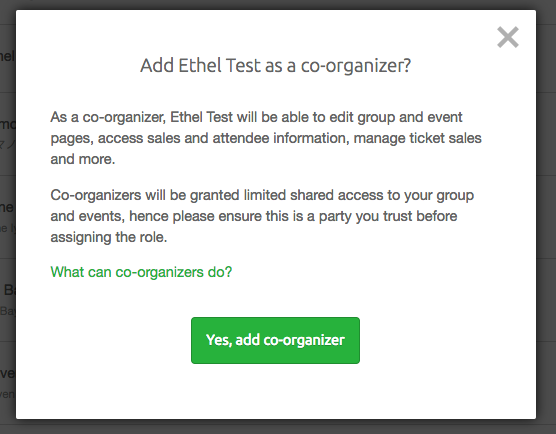 Click the "Manage group" button in the 'You are now a co-organizer' notification email, you will then be directed to the group page and you can edit this page, follower list and the event pages within the event.

Learn more on how work together on your upcoming events with Peatix's Roles feature by visiting our Help Center