Today on Organizer Stories we sit down with Rosalind Grush, Artistic Director of the storied New York City performing arts presenter The Tank. The Tank provides indispensable resources to over 1,000 emerging artists every year, "fostering an environment of inclusiveness and removing the burden of cost from the creation of new work for artists launching their careers."
An insightful and sanguine champion of new works and new artists, Rosalind's interview is considerably more arresting than this introduction, so let's get right to it: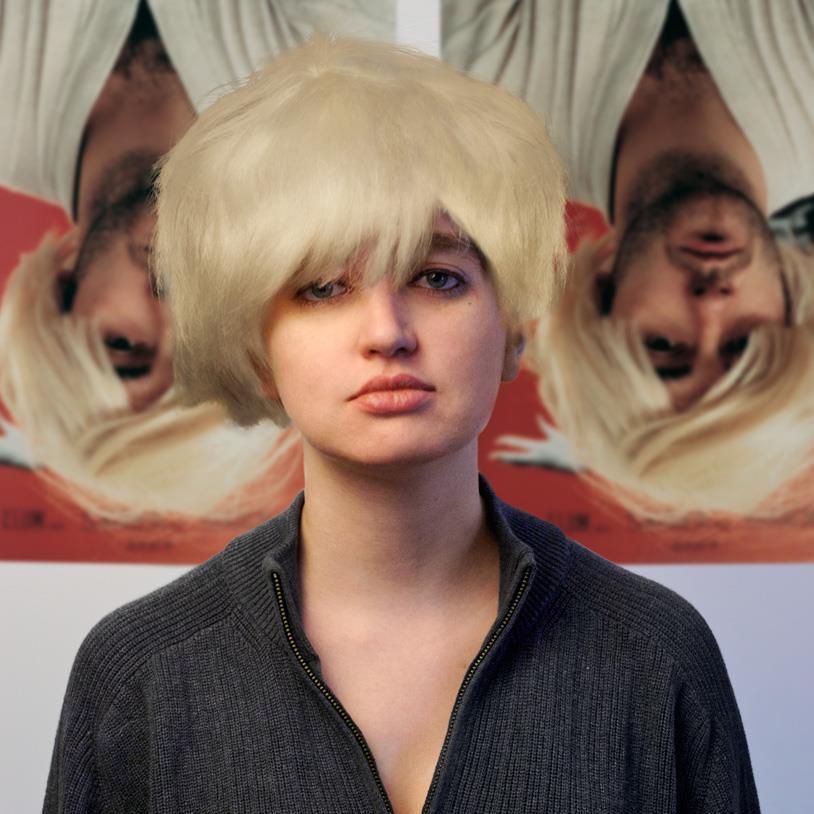 Photo by Josh Luxenberg
Rosalind Grush as Douglas Gordon as Kurt Cobain as Andy Warhol as Myra Hindley as Marilyn Monroe
The Tank has been going strong for about a dozen years now. Can you give us a quick history of its evolution, and what you perceive to be your role in The Tank's legacy?
The Tank was founded in 2003 by a group of nine emerging artists, many of whom have since
emerged–including Tony-nominated theater director Alex Timbers and Pulitzer Prize-finalist playwright Amy Herzog. They found a space across the street from Playwrights Horizons on 42nd Street, where there is a parking garage now. The rent there was $1,500 a month, so the group of artists basically figured they could throw a party once a month to cover rent and then open the space up for all manner of artistic experiments the rest of the time. The space was founded with an adventurous, joyous spirit that prized both risk-taking and inclusiveness.
And in terms of my legacy, well…I put together our very first co-production, and this year, we're fully
producing our very first show, which is exciting. I've also done a lot of work on our organizational
infrastructure, and we posted our biggest surplus in Tank history in FY15! We've been able to double our average artist payouts and the number of free rehearsal hours that we provide each year, as well as support an ever-growing number of performances and artists. Plus, we had over 10,000 people see our programming last year–all on a shoestring marketing budget. We're on track to continue this growth in our 2015-16 season! So hopefully my legacy will be helping The Tank thrive in an arts landscape that really needs this organization.
What is your approach to nurturing artists in the nascent stages of their careers?
It's really difficult to get your foot in the door in this industry. When you're just starting out, you hear a lot of no's and even more nothing. It's not uncommon for people to work at organizations in some capacity and still get form letter rejections from those same institutions! And then there's the whole process of working on a play or a piece for literally years and not seeing any attention or compensation for it. So it's just important for me to be constantly thinking about the various disappointments and frustrations that people need to process in this industry, along with the inherent vulnerability and fear that comes with putting your art out into the world. When I think about all that, it's easier to remember that it's an honor to be advocating for such a large and diverse group of artists, and that the most important thing I can do is to treat them with the respect and dignity that they deserve as artists, professionals, and people.
From The Krumple's  Go to Sleep Goddamnit, presented at The Tank in April, 2015
What niche in the New York City arts community do you think The Tank occupies?
The Tank is important to the NYC theater/arts landscape for two reasons: comprehensive resources
and inclusiveness. We provide free performance space, free rehearsal space, promotional support, a
cut of the box office (where artists can earn over $500 per performance–not nothin'!) and/or
guaranteed stipends in some cases, and a whole lot of other support for our artists. That removes
literally thousands of dollars worth of expenses from the process of getting your work done in NYC–and all with no application fees. We make work possible that otherwise literally wouldn't be
economically feasible for a lot of artists.
And then there's our open submissions process. We operate with an awesome team of curators who identify work that they're excited about, and then I'd say something like 25% of our programming comes from people who cold email proposals to us and don't know anyone involved in our organization already. We constantly give people who we've never worked with before opportunities to get their work out there, to both expand our own network of artists and to diversify the voices and stories that can be seen on our stages.
I really think that being this kind of artist-centric organization is what has made us such a mainstay in the New York City scene. Listening, saying yes, and not being afraid of new or big ideas are the things that have kept us going!
You literally taught the class on social media marketing. And as SM continues to evolve at blinding rates, how does The Tank keep up?
Having worked in non-profit theater marketing for years, I'm pretty used to reading about trends and best practices on non-arts sites like Mashable. I also look at both arts and non-arts companies to see what things seem to be working and what things aren't, and adapt those observations into mission-specific strategies. And I can't lie–our interns are a huge part of our marketing team! Listening to how people even a few years younger than I am use social media and then letting them run with the strategies we talk about is a huge way for us to remain responsive and build platforms for our artists' work.
Looking back, what are some of the more successful or memorable events you've been involved with at The Tank?
This might sound cheesy, but I think that almost every event we do has some level of success in it! We work carefully with each of our artists to try to help them set realistic goals for their piece, whether that's just getting it up on its feet in front of some friends, packing the house out, doing a first multi-performance run, seeking industry attendees–whatever it may be. And then we try to give people the resources they need to meet those goals.
That being said, there's a lot that I've been proud to support at The Tank. We did a 24 hour comedy festival that had people watching some truly genre-bending improv at 3 in the morning; we recently did our first bi-coastal event with live performances both on our stage and in San Francisco connected by a video feed; we brought a truly phenomenal physical theater company in from Norway who did an unreal mask piece about a priest in a small town whose congregation had abandoned him…we do a festival in the summer called Dark Fest where we turn off the grid and our artists have to come up with alternative power sources for any lights that they want to use in their pieces. One piece constructed a bike powered generator for lights in their dance piece! This festival has me thinking about theater design in a whole new way.
I definitely have to mention Manual Cinema's Ada/Ava, though. I put together a co-production of the show with 3-Legged Dog downtown – they are an absolutely gorgeous venue and an incredible organization. The piece was precisely choreographed, incredibly intricate shadow puppetry. The show used four overhead projectors, live silhouettes, and a video feed. It was gorgeous, and I was really proud to have found the right home for the piece. It ended up extending from a three-week run to a six-week run and was a NYT Critics' Pick from Ben Brantley. For a piece of experimental shadow puppetry! Getting our artists the things that they need at the moment in their careers when they need it is truly the most rewarding thing about this job, and the thing that really defines The Tank's role in the artistic landscape as not only an invaluable home for artists, but also a leading tastemaker audiences can look to for exciting new projects.
From Ada/Ava, presented at The Tank in June, 2015
Break time! What is the scariest occurrence you've witnessed in your time as a New Yorker?
Well–in my last apartment in Greenpoint, it was really late at night and I was still awake watching a season premiere of Downton Abbey, and I saw smoke rising from my floorboards. It turned out that a wire had short-circuited and was smoldering on one of the wooden crossbeams. The fire department came and cut a hole in my floor to get to the fire, and I could see directly into the apartment below mine because it didn't even have a ceiling. I realized that my floor was actually made out of two layers of really thin plywood laid over four crossbeams. I had been living on like an inch-thick plywood floor for three plus years; that was scarier than the fire!
Do you have any grand plans for The Tank in the coming months and years? How would you like to see the organization evolve?
Absolutely–there is a lot of growth this organization can, and hopefully will, see. We currently share our mainstage space with a commercial producing company called The Playroom Theater. It's a truly wonderful arrangement for us, but it does mean that we aren't in the space full time. We have the space Thursday, Friday, and Saturday nights, and all day Sunday. We are hoping in the next 3-5 years to move to a space that we can be in full time, so that we can provide more rehearsal hours and residencies for artists developing new work, support more artists by doing performances more nights of the week, and also so that we can do more long runs. It would be huge!
Can you share with our readers your favorite GIF/Youtube video/amusing link?
"Plop the ham thusly, please"
https://www.youtube.com/watch?v=Apj8vmMrfQA